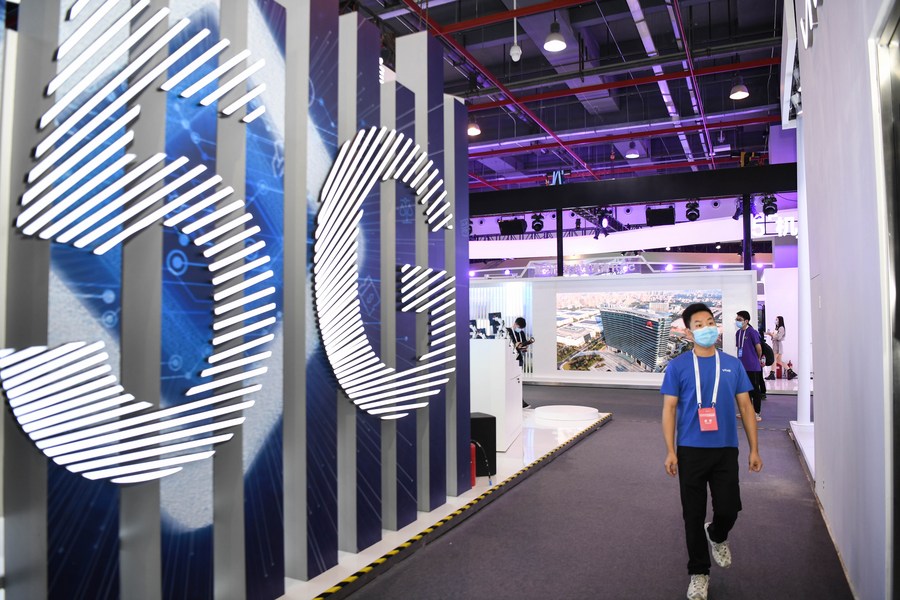 Photo taken on Nov 26, 2020 shows a 5G-themed exhibition held during the World 5G Convention in Guangzhou, South China's Guangdong province. [Photo/Xinhua]
>China building largest 5G network
我国建成最大5G移动网络

China has made initial achievements in building the world's largest 5G mobile network, the Ministry of Industry and Information Technology) said Monday. The country has built a total of 792,000 5G base stations as of the end of February, with the number of mobile terminals connected to the network reaching 260 million, vice minister Liu Liehong, said at a news conference.
工业和信息化部副部长刘烈宏4月19日在政策吹风会上宣布,我国已初步建成全球最大规模的5G移动网络。截至今年2月底,累计建成5G基站79.2万个,5G终端连接数已达2.6亿。

China's mobile network speed ranks fourth among 139 countries and regions, Liu said, citing data from an international speed measuring agency.
根据国际测速机构数据,我国移动网络速率在全球139个国家和地区中排名第4位。

China aims to build more than 600,000 5G base stations in 2021. The ministry will shift its focus from network "coverage and popularization" to "improvement of speed and quality". It also plans to build a "double gigabit" network infrastructure covering urban areas and towns where conditions are satisfied in three years, and promote the on-demand construction and deep coverage of 5G networks in an orderly manner, according to the MIIT.
刘烈宏说,2021年我国将新建超60万个5G基站,将推动工作重心从网络"覆盖普及"向"提速提质"转变,3年内还将在条件允许的城区和乡镇建设"双千兆"网络基础设施,有序推进5G网络按需建设、深度覆盖。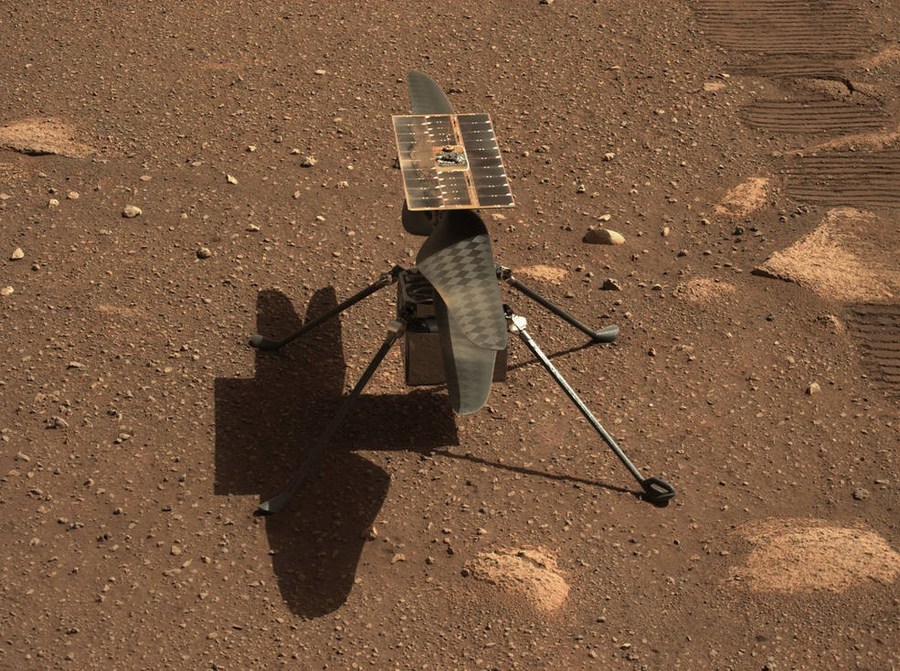 Image taken by cameras aboard NASA's Perseverance rover on Mars, April 5, 2021 shows Mars helicopter Ingenuity. [Photo/Xinhua]
>Mars helicopter takes flight
'机智'号火星直升机首飞

NASA launched its Mars helicopter Ingenuity from the surface of the Red Planet on Monday, marking the first powered, controlled flight of an aircraft on another planet.
4月19日,美国国家航空航天局的"机智"号无人直升机成功完成了在火星上的首次飞行,这是人造航空器首次在另一个行星上受控飞行。

The solar-powered helicopter first became airborne at 3:34 am Eastern Time, a time the Ingenuity team determined would have optimal energy and flight conditions.
"机智"号试飞时间为美国东部时间4月19日3时34分,"机智"号团队认为这一时间点有最佳的能量和飞行条件。

The Ingenuity team confirmed the flight succeeded after receiving data from the helicopter via NASA's Perseverance Mars rover at 6:46 am ET.
"机智"号无人直升机由太阳能电池板充电。任务团队于美东时间当天6时46分接收到"机智"号通过"毅力"号火星车传回地球的数据,确认首飞成功。

Altimeter data indicates Ingenuity climbed to its prescribed maximum altitude of three meters and maintained a stable hover for 30 seconds, according to NASA.
高度计数据显示,"机智"号上升至预设的3米飞行高度,悬停约30秒,随后降落并顺利在火星着陆。

It then descended, touching back down on the surface of Mars after logging a total of 39.1 seconds of flight.
整个飞行过程持续了39.1秒。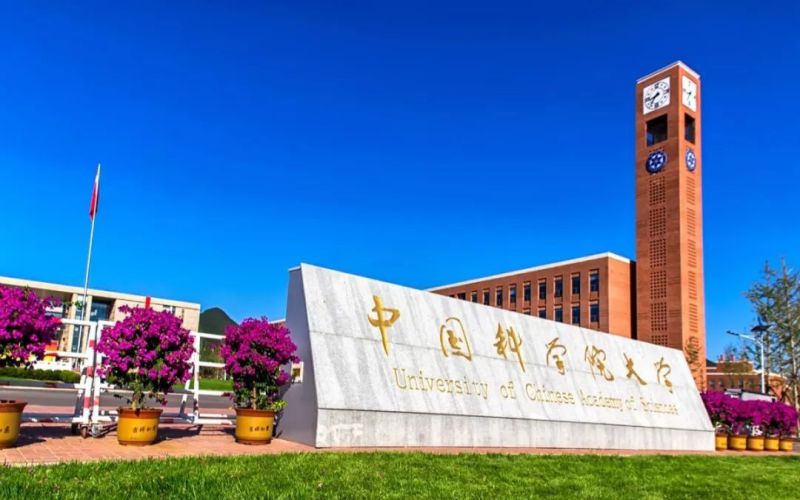 The University of the Chinese Academy of Sciences. [Photo/China Daily]
>Doctoral thesis inspires
博士论文致谢爆红刷屏

Recently, an acknowledgements section from a doctoral thesis has gone viral.
近日,中国科学院一博士论文的致谢部分爆红刷屏。

The author reviewed his bumpy, challenging road to reach this point, which touched a large number of netizens.
作者叫黄国平,他回顾了自己坎坷艰难的求学路,文字令许多网友动容。

"I have come a long way and endured a great deal of hardships to present this dissertation before you," the author, Huang Guoping, wrote at the beginning of his thesis for the Chinese Academy of Sciences.
作者开篇写道:"我走了很远的路,吃了很多的苦,才将这份博士学位论文送到你的面前。"

In the thesis, he mentioned he was born in a mountainous area and his mother left home at 12. His father died in a traffic accident when he was 17.
黄国平提到,自己出生在一个小山坳里,母亲在他十二岁时离家,父亲在他十七岁时因交通事故离世。

After going from a middle school in a remote mountainous area to Southwest University in Chongqing, and finally pursuing his doctoral degree in the Chinese Academy of Sciences, he said "he couldn't remember how many times he had felt overwhelmed by the burdens of life." "But my belief was simple. I wanted to keep studying, get out of the mountainous area, and prove I haven't lived in vain."
从小山坳的中学,到重庆的西南大学,再到北京的中科院自动化所,黄国平已"记不清有多少次因为现实的压力而觉得快扛不下去了",但他的信念很简单:"把书念下去,然后走出去,不枉活一世"。

At the end of the acknowledgement, Huang expressed his wishes. "I hope I can keep a young heart after years of fighting, I hope I have the chance to rediscover the world and live up to what I have suffered in my life. And I would feel it was all worthwhile if I could do something to make someone else's life better."
致谢部分结尾,他写道:"理想不伟大,只愿年过半百,归来仍是少年,希望还有机会重新认识这个世界,不辜负这一生吃过的苦。最后如果还能做出点让别人生活更美好的事,那这辈子就赚了。"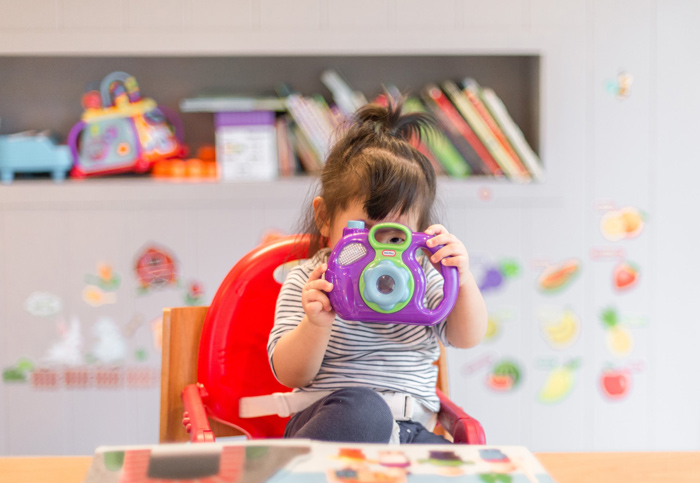 [Photo/Unsplash]
>Stay-at-home fathers hit new high
韩全职奶爸数量创新高

A total of 13,000 South Korean men outside the labor force were in charge of child care last month, up 6,000 from a year earlier according to data from the Korean Statistical Information Service. It was the largest number since data tracking began in 1999.
韩国统计信息服务网4月19日发布的数据显示,韩国今年3月有1.3万名全职奶爸,同比增加6000人,创下1999年开始此项统计以来的历史新高。

The year-on-year increase was also the biggest since March 2018.
这也是自2018年3月以来的最大同比增幅。

Those in their 30s and 40s accounted for 74.5% of stay-at-home dads. Men aged 60 and older took up nearly 18%.
在这些全职奶爸中,74.5%为30岁和40岁年龄段男性,60岁及以上男性占比将近18%。

In contrast, the number of South Korean stay-at-home mothers came to 1.112 million last month, down 93,000 from a year earlier. From 10 years earlier, last month's tally was down 373,000.
相比之下,韩国全职妈妈的人数上月为111.2万,比去年同期减少9.3万,与10年前相比减少了37.3万。

Amid a rise in the number of men in child care, more male workers in Asia's fourth-largest economy took paternity leave last year.
韩国是亚洲第四大经济体,随着全职奶爸人数的增加,去年更多的男性员工休了陪产假。

According to data from the labor ministry, nearly 27,400 private-sector male workers took child care leave last year, up 23% from the previous year.
根据韩国劳动部的数据,去年近27400名私营部门的男性员工休了育儿假,比前一年增加了23%。

Find more audio news on the China Daily app