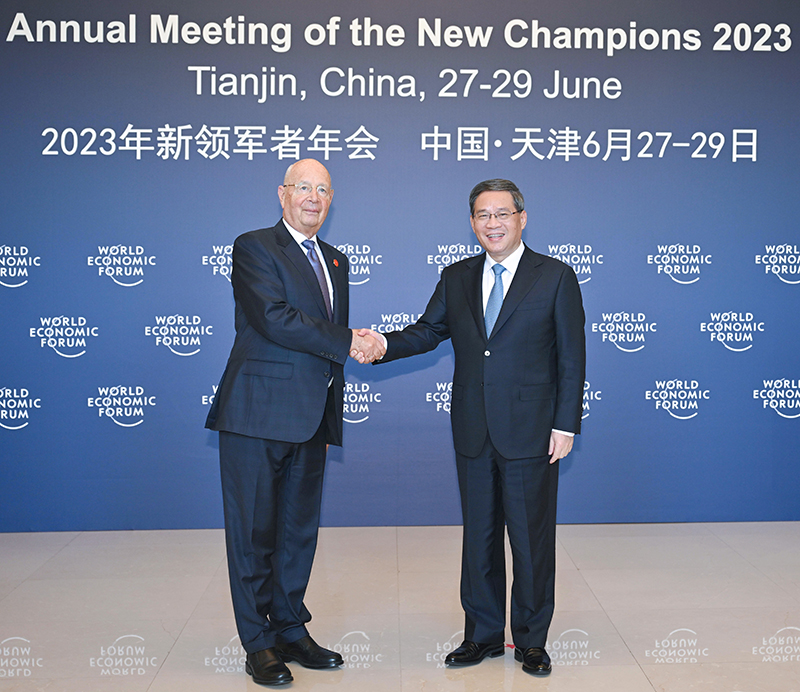 Premier Li Qiang meets with Executive Chairman of the World Economic Forum (WEF) Klaus Schwab in Tianjin on Monday. [Photo/Xinhua]
Li meets with trade, economic leaders ahead of Summer Davos Forum
Premier Li Qiang has stressed the importance of making concerted efforts in resuming world economic growth and addressing global challenges, ahead of the 14th Annual Meeting of the New Champions, also known as the Summer Davos Forum.
He made the remarks on Monday when meeting with Klaus Schwab, executive chairman of the World Economic Forum, and Ngozi Okonjo-Iweala, director-general of the World Trade Organization, in Tianjin, where the forum will be held. The event, themed "Entrepreneurship: The Driving Force of the Global Economy", runs from Tuesday through Friday.
In his meeting with Schwab, Li said China's cooperation with the WEF has been fruitful since Beijing started its alliance with the forum in 1979, which was marked by the arrival of a Chinese delegation in Davos.
In the age of globalization, with interests intertwined, it is an irreversible trend that all countries must coordinate with each other and complement each other's advantages, he said.
He called on all countries to promote mutual trust, reduce misunderstanding, and achieve mutual benefits through candid and in-depth dialogue so as to overcome common challenges.
China will stay on the path of peaceful development, keep expanding opening-up and share with the world its development opportunities, Li said.
Schwab said the world benefits from China's development and the WEF is ready to encourage all parties to deepen mutual trust and expand cooperation for mutual benefits.
When meeting with Okonjo-Iweala, Li reiterated China's readiness to work with all parties to support multilateralism and free trade while opposing unilateralism and protectionism.
The premier said that certain countries' rhetoric of "reducing independence" and "de-risking" is in fact politicizing and drawing ideological lines in trade issues.
Such acts violate the basic principles that the WTO advocates, threaten the authority and effectiveness of the multilateral trading system and disrupt the stability of global industrial and supply chains, he said.
Li said China will work with all parties to push for trade and investment liberalization and facilitation, promote world economic recovery and better deal with global challenges.
As the biggest developing country and a responsible major nation, China will undertake its responsibilities, which are consistent with its own economic development, and safeguard the lawful interests of all developing countries, Li added.
Okonjo-Iweala said that decoupling will undermine global economic growth, adding that the WTO expects to build a strong partnership with China.
Aligning of strategies
The Chinese premier also held a meeting with visiting Vietnamese Prime Minister Pham Minh Chinh in Beijing on Monday, calling for both countries to build a closer community with a shared future and take bilateral ties to a higher level amid global turbulence.
Li urged the two sides to accelerate the alignment of their strategies with the Belt and Road Initiative as the priority, improve the efficiency of railway transportation between the two countries and promote ports opening and infrastructure connectivity.
He encouraged the two countries to expand cooperation in agriculture, investment and energy and facilitate exchanges in areas such as culture, tourism, education and youth.
The premier stressed that China stands ready to manage disputes with Vietnam through dialogue and consultation, promote practical maritime cooperation and speed up negotiations on the Code of Conduct in the South China Sea.
Pham Minh Chinh, who is paying an official visit to China on the sidelines of the Summer Davos Forum, said Vietnam firmly upholds the one-China policy and will deepen cooperation with China and manage their differences to achieve common prosperity.