Visitors check out the products of Herbalife Nutrition during the third China International Import Expo in Shanghai on Nov 6. [Photo provided to China Daily]
Weight-conscious desire to reduce calories, save money, feeding sector nationwide
With the influx of significant capital and numerous players vying for a piece of the pie, the meal-replacement market in China is piping hot.
A meal replacement is a drink, bar, soup or other edible intended as a substitute for a solid food meal.
Euromonitor International, a market research company, said that China is currently the fastest-growing market for meal replacements, forecasting that it could top 57.2 billion yuan ($8.8 billion) in 2017 and reach 120 billion yuan in 2022.
China had 610 million potential meal replacement consumers last year, according to an analysis report from ITJUZI, a business information service provider. Data released by Tmall showed that in the past three years, each person had spent on average more than 3,000 yuan on meal-replacement products per year.
A report on consumption trends for meal replacements in the market by Chinese research firm CBNData said that both domestic consumption and the number of consumers grew by over 50 percent last year.
Several fundraising activities have recently taken place in the Chinese meal-replacement sector. Wang Baobao, one of the most popular brands in the industry, completed three rounds of fundraising in 2020, raising over 100 million yuan in the series C round. Many new players in the market like Ffit8 and Sharkfit also reaped more than 10 million yuan each in their first round of financing.
Jason Yu, general manager of consultancy Kantar Worldpanel China, attributed the surging popularity of meal replacements in part to rising health awareness amid the COVID-19 pandemic.
"Due to the pandemic, people have begun to attach more importance to their health and exercise, and meal replacements help manage weight at normal levels," Yu said.
He also mentioned other factors contributing to the booming sector, including shifts in consumers' eating habits from Chinese fare to Western foods, innovations in meal-replacement products and the birth of more online and offline retailers making purchasing more convenient.
Though meal replacements have become a hot sector and even a necessity for a growing number of Chinese, the general public still cannot agree on what actually constitutes a meal replacement.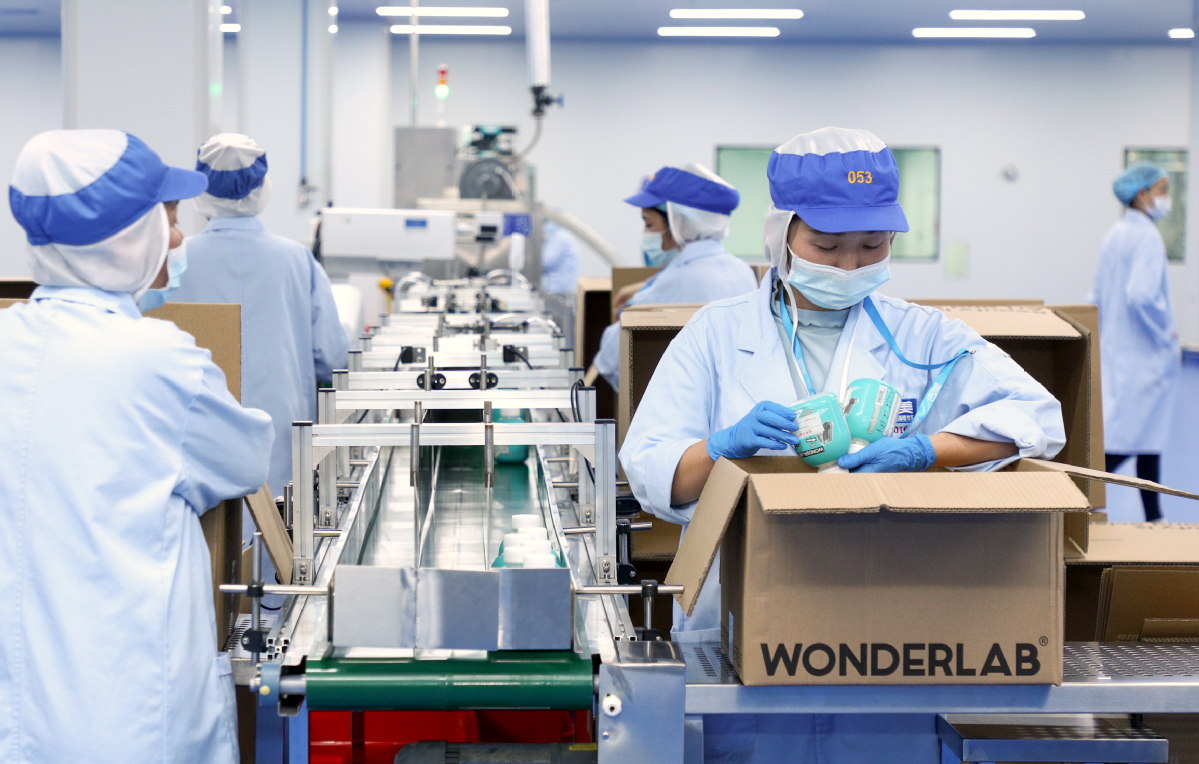 Workers package WonderLab's latest milkshake on a production line in Hangzhou, Zhejiang province, in November. [Photo provided to China Daily]
In July, the Chinese Nutrition Society defined the meals as "specially processed food containing limited calories and nutritional components" that equal one or two meals for an adult when they are controlling their weight. These products generally come in the form of powders, milkshakes or energy bars with various nutrients.
People flocking to embrace meal replacements have driven more players to rush into the market in recent years. The number of meal-replacement brands in China jumped from 2,837 in 2019 to 3,540 in 2020, said CBNData.
Two-year-old startup Smeal (Shanghai) Biotechnology Co Ltd offers powders that become healthy beverages after water is added. The brand has been well-received in the Chinese market.
From January to August, monthly sales of the product soared four to five times year-on-year. One million bottles of Smeal powder were sold on Tmall with total revenue of 11.5 million yuan during China's Nov 11 Shopping Festival.
Cao Peng, founder of the company, previously told China Daily that taste is key to repeat purchases. Smeal powder has various flavors including chocolate, coffee and matcha.
Besides selling on JD and Tmall, Smeal can also be found in Watsons and other retail outlets.
Many startups like Smeal have found their path to prosperity in recent years.
WonderLab, a meal-replacement brand in Shenzhen, Guangdong province, gained traction given a series of ads on Chinese social media network WeChat.
Founded in 2019, the company said the sales of its bottled milkshakes hit 60 million servings in the first year and it was rated by Tmall as the top brand of bottled meal-replacement milkshakes among females.
More giants in other fields are also elbowing their way into the fast-rising sector. PepsiCo's oat brand Quaker released a shake product in June, while Nestle introduced three meal-replacement brands by April.
"The meal-replacement market in China is rather segmented and is still in an infancy stage, with no brand occupying a monopolistic position yet. Different players have their specific orientations and target audiences and they are competing intensely with each other," Yu said.
Bessie Wo, 39, who works in Shanghai, has used meal-replacement products as a dinner option for about eight years. Different from many other consumers aiming to lose weight, she keeps eating meal replacements simply to keep fit and save time.
With each meal costing 10 to 20 yuan, Wo said she typically spends 1,000 to 2,000 yuan on meal replacements and other nutrition supplements per year.
Originally, she chose offerings from Herbalife Nutrition, a United States-based nutrition company, but later turned to WonderLab for a more cost-effective choice.
According to a report jointly released by CBNData and Tmall, 70 percent of consumers of meal-replacement products are female and those born between the 1980s and 1990s make up 40 percent of all consumption. But the biggest potential is with those born after 1995.
CBNData also pointed out that first-tier and second-tier cities contribute to nearly 50 percent of the total consumption.
Zhu Danpeng, an independent food and beverage analyst, said the demographics of meal-replacement consumers have undergone some substantial changes.
"Initially most domestic consumers were professional athletes and bodybuilders. But since 2015, those who care for their appearance, weight and health management have risen significantly in number," Zhu said.
Yu likened China's meal-replacement market to enjoying explosive yet unchecked growth, and he predicted the status quo to change in the long run.
Some products even falsely advertise and exaggerate their effectiveness. A report released by the Consumer Council of Shenzhen pointed out that the measured values of some nutrients of four products are inconsistent with reality.
"China's meal-replacement market should develop step by step and rationally," Yu said. "The enterprises shouldn't follow trends blindly but seek to grasp consumer demand accurately and provide diverse products."
Wo said she has studied carefully the nutritional components contained in meal-replacement products, but still pointed to a lack of systematic customer education by brands.
"One needs to intake a certain amount based on his or her condition to sustain basic well-being," she said. "But I don't think most brands today are doing a great job in detailing nutrition components, suggesting proper intake for different individuals and educating customers on how to take meal replacements in the right manner."
Gu Zhongyi, a member of the Beijing Nutritionist Association, said customers should choose products that have a comprehensive listing of nutrients.
Gu said that combinations of regular meals and nutritional supplements would be more helpful at keeping people in shape.
"And healthy eating alone isn't sufficient to tackle obesity. You still need to exercise regularly," Gu added.
Wu Miaomiao in Shanghai contributed to this story.