Reader question:
Talking about the next election in 2024, someone describes Donald Trump as "old news". What does that mean?

My comments:
Whoever that someone is, he or she wants someone new for US president, someone fresh, someone younger and more exciting.
Not some "old news" like former President Donald Trump, or the former guy, as current President Joe Biden calls him.
Here, "old news" is a metaphor. Do not take it too literally because Donald Trump remains very much in the news today, enjoying pretty much the same popularity among Republicans as yesteryear.
He's actually leading the race for the Republican nomination, sitting well ahead of other candidates such as, for example, Florida Governor Ron DeSantis.
DeSantis, by the way, is often talked about as the new guy for the Republican Party, the next big thing – in contrast to the former guy.
Or "old news" Trump.
"Old news", literally, means news of yesterday, i.e. news in the past. As someone who's been in the news business for decades, I can tell you first hand that old news is worthless. Old news is, well, old. People have heard it before and are not interested in hearing it again.
Old news is a non-issue, as in irrelevant, not a matter of concern.
Hence, metaphorically, when someone is described as "old news", he's old and unexciting. People are familiar with him and, therefore, not excited to hear about him again.
In other words, he's no longer a big deal.
All right?
All right, here are media examples of "old news", in the sense that it's old, stale and unappetizing:

1. Is the economy headed toward a recession? If so, why are jobs so strong? The data is in, and even economists are confused.
U.S. job growth blew past expectations in July, reaching a point of recovery for the 22 million jobs lost during the pandemic, all despite gloomy economic forecasts that a recession could be on its way.
Workers, for their part, are still changing jobs – 4.2 million people quit in June – and many of them are getting big raises and interesting career opportunities. Even so, headlines of layoffs coming out of the tech sector are shaking workers' confidence.
CNBC Make It spoke with three people newly and recently on the job market about how they're really feeling about the mixed messages.
While layoffs remain at record lows, according to the Labor Department, many have been shocked to see some tech companies take a dive after growing at warp speed last year. It surprised Ashley Williams, a software engineer in New York City who's looking for work for the second time in seven months.
Williams, 25, used to be a high school teacher. Like many people in search of better pay and work-life balance during Covid, she took a coding bootcamp to switch careers into tech. Once she graduated last October, she remembers fielding lots of job opportunities.
She joined Ribbon, a real estate startup, in January. By July, she was one of 136 staffers impacted by a mass layoff.
"Going through a layoff wasn't something I was expecting at all, coming from career in public school teaching," Williams says. "I was never worried I was going to lose my job."
She thought tech would be just as stable: "People said, 'Everyone always needs engineers,' which is true. But I didn't anticipate how volatile this career could be, especially at a pre-enterprise company."
She now finds herself in a crowded field of newly laid off engineers, especially those early in their careers, vying for the same jobs.
Beyond tech, workers' confidence in the job market seems to be waning, according to a ZipRecruiter index as of July. More than a quarter believe there will be fewer jobs six months from now, and roughly half feel financial pressure to accept the first offer they receive.
Williams is taking a sober approach. "Having a job is more important for me now than having a perfect job," she says.
She adds that her biggest challenge is being "emotionally ready" to go through intensive technical interviews again. But she knows she has to jump right back in.
"The day that I was laid off, I felt like I had to get on LinkedIn and say I was affected by cuts," Williams says. "I was worried that in another few days, another company would be doing the same thing, and I would be old news."
- Is the job market really getting worse? 3 recent job-seekers weigh in, CNBC.com, August 10, 2022.

2. It's a good plan, really, that the Democrats have come up with.
Do something illegal, unconstitutional, immoral and/or corrupt.
Lie about it. Censor it. Ridicule anyone who talks about it.
Then by the time the truth comes out, it doesn't matter because all of their goals have been accomplished and they just say "next" like it never happened and doesn't matter anyway.
We've seen this go on quite a lot with the Democrat party. We almost always know what they are up to but by the time the truth is actually exposed, it's all but forgotten and we're on to their next scandal.
Such is the case with the censorship and suppression of the New York Posts' Hunter Biden laptop story that was censored by the Democrats and their media friends before the presidential election.
Even though Elon Musk has exposed them all for censoring the truth, they aren't apologizing nor do they appear embarrassed or shamed at all.
In fact, they're just tired of the whole thing. Move on, people.
White House Press Secretary Karine Jean Pierre said during a recent daily briefing, "That is full of old news…" when asked about Twitter's release of internal documents showing collusion between Twitter and Democrats to suppress the story.
- Democrat Election Interference is "Old News" According to White House, SteveGruber.com, December 7, 2022.

3. When Prince William was a student at the University of St. Andrews, as any college kid would, he just wanted to have a normal experience—or as normal of an experience as is possible for the future king. The Mirror recalls that William used a fake name to go under the radar—and his pseudonym is about as normal as it comes: Steve.
Although he officially enrolled in college under the name William Wales, "it is believed his classmates used the nickname so he didn't receive any unwanted attention," The Mirror reports. "There's also a good chance his now-wife Kate called him this, as they were close friends at university and lived in the same student accommodation."
As is old news at this point, William met Kate Middleton while a first-year student at the university, developed a close friendship (even becoming roommates at one point), and eventually began dating. Using the "Steve" nickname allowed friends to talk about William without the media picking up on the fact that they were talking about that William—now the Prince of Wales.
And Steve isn't the only nickname William has had throughout his life. His mother, the late Princess Diana, used to call him "Wombat," he revealed in an NBC interview in 2007. The name stuck, as he said at the time "I can't get rid of it now."
"It began when I was two," he said, per The Daily Express. "I've been rightfully told, because I can't remember back that far, but when we went to Australia with our parents, and the wombat, you know, that's the local animal, so I basically got called that—not because I look like a wombat. Or maybe I do."
- Prince William Apparently Used a Fake Name to Go Under the Radar So He Wouldn't Be Recognized, MarieClaire.com, May 27, 2023.
本文仅代表作者本人观点,与本网立场无关。欢迎大家讨论学术问题,尊重他人,禁止人身攻击和发布一切违反国家现行法律法规的内容。
About the author: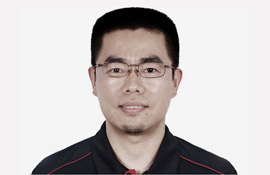 Zhang Xin is Trainer at chinadaily.com.cn. He has been with China Daily since 1988, when he graduated from Beijing Foreign Studies University. Write him at: zhangxin@chinadaily.com.cn, or raise a question for potential use in a future column.
(作者:张欣   编辑:丹妮)