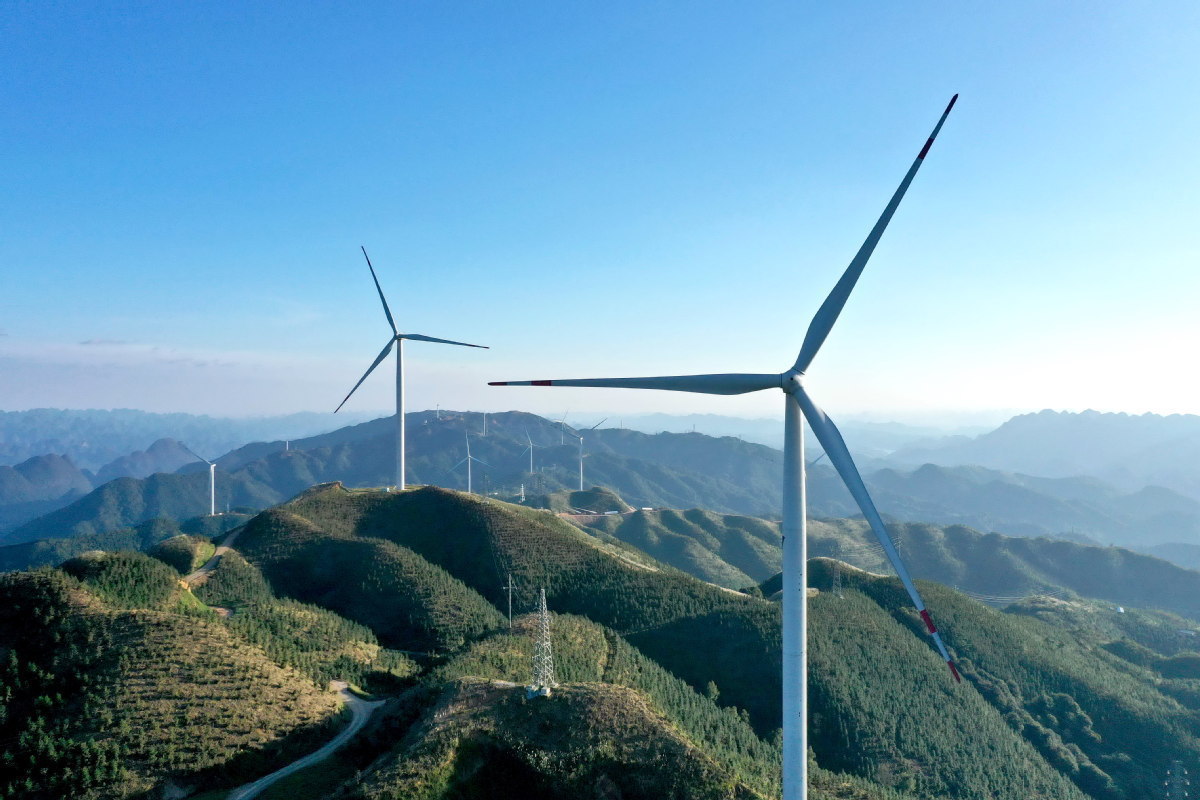 Aerial photo taken on Aug 19, 2020 shows wind turbines in Jiucaiping scenic spot in Southwest China's Guizhou province. [Photo/Xinhua]
>China maps path to carbon peak, neutrality
碳达峰碳中和中央层面总体部署亮相

Chinese authorities on Sunday unveiled a guiding document on the country's work to achieve carbon peak and carbon neutrality goals under the new development philosophy, laying out specific targets and measures for the coming decades.
《中共中央国务院关于完整准确全面贯彻新发展理念做好碳达峰碳中和工作的意见》10月24日发布,明确了未来数十年碳达峰碳中和工作主要目标和重大举措。

By 2030, China's carbon dioxide emissions will peak, stabilize and then decline, and by 2060, China will be carbon-neutral and have fully established a green, low-carbon and circular economy, it says, reiterating the country's previous pledge.
意见重申了政府此前的承诺,到2030年,我国二氧化碳排放量达到峰值并实现稳中有降;到2060年,实现碳中和,绿色低碳循环发展的经济体系全面建立。

"We are firmly committed to a green, low-carbon and high-quality development path that gives primacy to ecological civilization," says the document jointly released by the Communist Party of China Central Committee and the State Council.
意见提出,我们将坚定不移走生态优先、绿色低碳的高质量发展道路。

It outlines five major tasks, including creating a green, low-carbon and circular economy, improving energy efficiency, increasing the share of non-fossil energy consumption, lowering CO2 emissions and boosting the carbon sink capacity of ecosystems.
意见提出了构建绿色低碳循环发展经济体系、提升能源利用效率、提高非化石能源消费比重、降低二氧化碳排放水平、提升生态系统碳汇能力等五方面主要目标。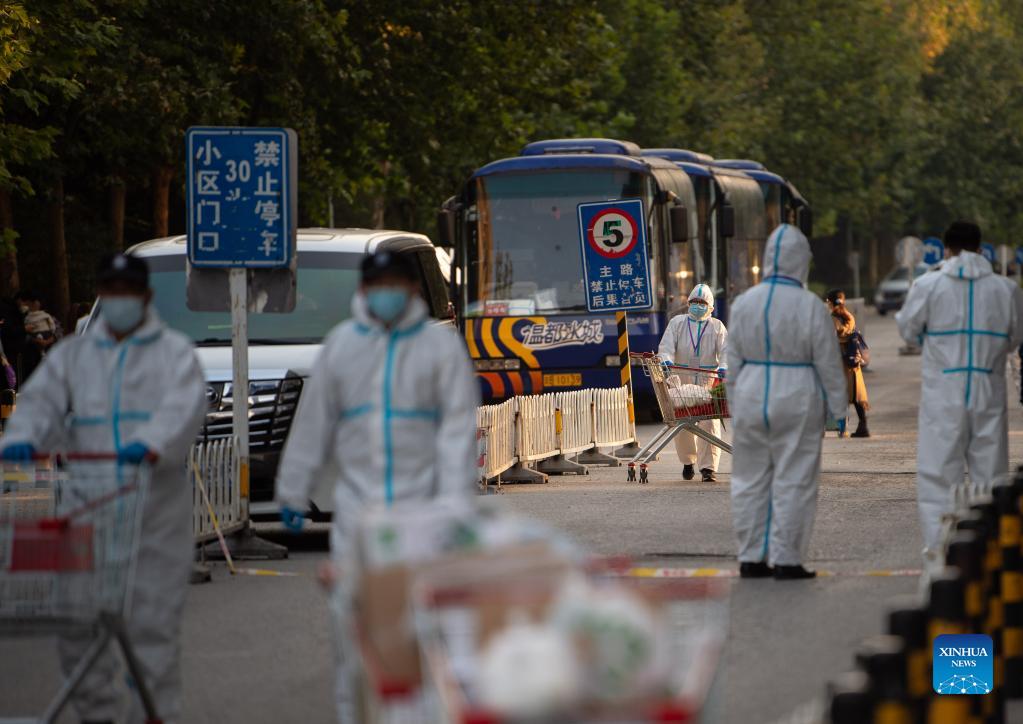 Staff members deliver daily necessities at the Hongfuyuan residential community in Changping district of Beijing, capital of China, Oct 23, 2021. [Photo/Xinhua]

>COVID-19 outbreak hits nation
本轮疫情源头来自境外

The recent resurgence of COVID-19, which has hit 11 provincial regions and has led to at least 106 infections in 13 tour groups, is believed to have been caused by an imported case, health officials revealed on Sunday. "Most cases reported in the recent wave were caused by the Delta variant and related to tourism. The origin of the virus is still under investigation," said Wu Liangyou, deputy director of the National Health Commission's disease prevention and control bureau. "The latest resurgence developed fast, with a growing number of cases not related to the tour groups," Wu added.
国家卫生健康委疾控局副局长吴良有在10月24日召开的新闻发布会上介绍,本次疫情是由一起新的境外输入源头引起,已波及11个省份,造成至少106例感染,涉及13个旅行团或自驾游。吴良有还介绍,本起疫情的病毒为德尔塔变异株,目前发现的跨地区感染者绝大多数与旅游团或自驾的游客有关。疫情源头尚在流调溯源中。总体上看,目前疫情处于快速发展阶段,非旅行团的病例数量开始增加。

He estimated cases will continue to grow in the next few days and spread to more areas.
预计未来几天发现病例数将继续增加,疫情波及范围可能进一步扩大。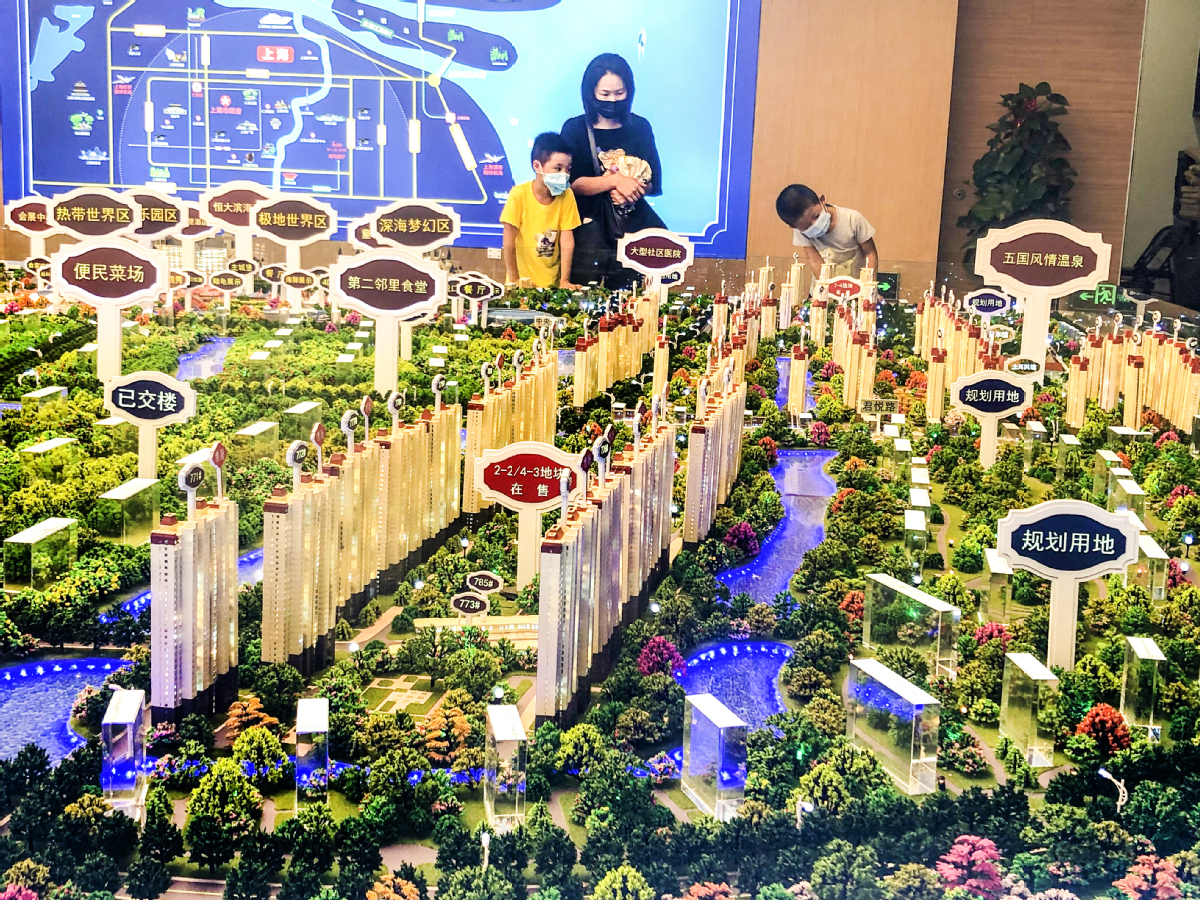 Local residents look at a property model in Shanghai. [Photo/China Daily]

>China to pilot property tax reforms
部分地区将开展房地产税改革试点

The Standing Committee of the National People's Congress, China's top legislature, on Saturday adopted a decision to authorize the State Council to pilot property tax reforms in certain regions.
10月23日,(第十三届)全国人民代表大会常务委员会(第三十一次会议)决定:授权国务院在部分地区开展房地产税改革试点工作。

The move to pilot property tax reforms aims to advance property tax legislation and reform in an active and prudent way, guide rational housing consumption and economical and intensive use of land resources and facilitate the steady and sound development of the country's property market.
决定指出,开展房地产税改革试点工作是为了积极稳妥推进房地产税立法与改革,引导住房合理消费和土地资源节约集约利用,促进房地产市场平稳健康发展。

The State Council will decide on the list of pilot areas after considering issues such as stepping up the pilot program, promoting unified legislation and advancing the steady and sound development of the property market. It will then submit the list to the NPC Standing Committee.
国务院统筹考虑深化试点与统一立法、促进房地产市场平稳健康发展等情况确定试点地区,报全国人民代表大会常务委员会备案。

The pilot program will last for five years.
本决定授权的试点期限为五年。

The Ministry of Finance and the State Taxation Administration will draft the measures for piloting the property tax and make preparations for the work in accordance with the authorization of the NPC Standing Committee.
财政部、国家税务总局将依照全国人大常委会的授权,起草房地产税试点办法(草案),按程序做好试点各项准备工作。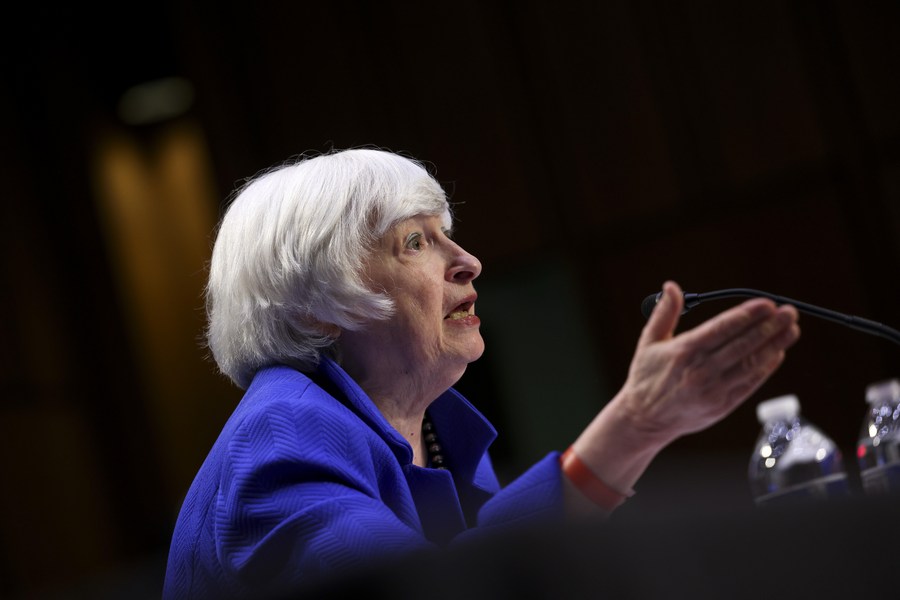 US Treasury Secretary Janet Yellen testifies during a Senate Banking, Housing, and Urban Affairs Committee hearing in Washington, DC, the United States, on Sept 28, 2021. [Photo/Xinhua]
>US 'not losing control of inflation'
美财长耶伦:通胀并未失控

US Treasury Secretary Janet Yellen said on Sunday she expected US inflation rates to fall to acceptable levels in the second half of next year.
美国财政部长耶伦10月24日表示,她预计美国通胀率将在2022年下半年恢复到可接受的水平。

Yellen pushed back against criticism the US is losing control over inflation.
耶伦反驳了美国通胀即将失控的批评。

"I agree, of course, we are going through a period of inflation that's higher than Americans have seen in a long time. And it's something that's obviously a concern and worrying them. But we haven't lost control," she said.
她说:"当然,我同意,美国人已经很久没见过我们最近经历的这样的通胀了,这显然会令他们感到担忧和担心,但我们并没有失去控制。"

Yellen's remarks came after the US Labor Department recently reported US inflation remained elevated in September as supply chain disruptions had persisted for months. Over the past 12 months through September, the consumer price index increased 5.4%, slightly up from the 5.3% pace for the 12-month period ending in August, according to the department.
耶伦此番表态的背景是,美国劳工部最新数据显示,由于供应链危机持续数月,9月份美国通胀数据依然高企。9月未经调整CPI同比上涨5.4%,较8月时的5.3%小幅回升。
Find more audio news on the China Daily app.