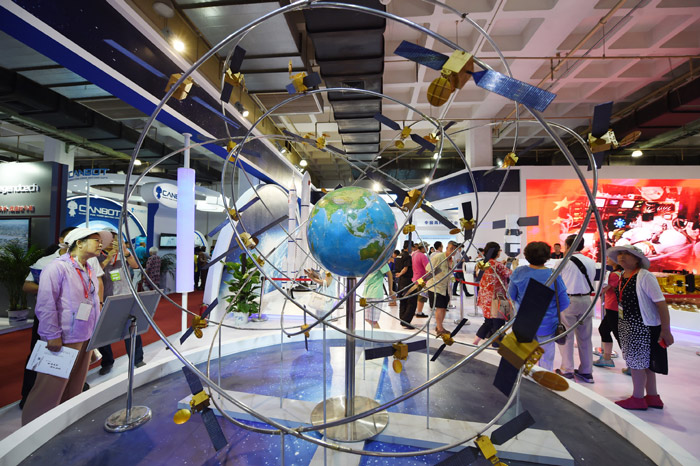 [Photo/Xinhua]
>Beidou products land abroad
北斗迈入全球服务时代
China's Beidou-3 Navigation Satellite System was officially commissioned.
我国的北斗三号全球卫星导航系统近日正式开通。
According to Ran Chengqi, director general of China Satellite Navigation Office, as one of the four major global satellite navigation systems recognized by the United Nations Beidou has been constantly deepening its compatibility, interoperability and cooperation with the US' GPS, Russia's GLONASS and the EU's Galileo. It has also entered international organizations of civil aviation, maritime affairs, search and rescue satellites and mobile communication.
据中国卫星导航系统管理办公室主任冉承其介绍,北斗作为联合国认可的四大全球卫星导航系统之一,与美国的全球定位系统、俄罗斯的格洛纳斯导航系统、欧盟的伽利略导航系统的兼容与互操作及系统间合作持续深化,还相继进入民航、海事、搜救卫星、移动通信等多个国际组织,多个支持北斗系统的国际标准已发布。
Multiple international standards related to BDS have been released. BDS-related products have been exported to over 120 countries and regions, serving hundreds of millions of users.
目前,北斗相关产品已出口120余个国家和地区,向亿级以上用户提供服务。
BDS-based services have been successfully applied in land mapping, precision farming, digital development and smart port construction in member countries of ASEAN, South Asia, Eastern Europe, West Asia and Africa.
基于北斗的国土测绘、精准农业、数字化发展、智慧港口建设等已在东盟、南亚、东欧、西亚、非洲成功应用。


[Photo/Xinhua]
>Use of foreign capital rises
多省市使用外资正增长
Utilization of foreign investment in China rebounded in the first half of the year, rising 8.4% year-on-year in the second quarter, according to Securities Times on Wednesday.
据《证券时报》8月5日报道,上半年我国利用外资数据稳步回升,二季度同比增长8.4%。
As of Aug 4, 11 out of 12 provinces and cities that released data on the actual use of foreign investment in the first half saw a year-on-year increase, except Guangdong, which saw a narrowing rate of decrease.
截至8月4日,全国共有12个省市公布了上半年实际利用外资"成绩单",除广东省以外,其他地区均实现了同比正增长,广东省实际使用外资降幅正在收窄。
Pang Chaoran, associate researcher with the Chinese Academy of International Trade and Economic Cooperation, said the growth of China's actual use of foreign investment benefited from the epidemic control in China, leading to a trend of good prospects in work resumption.
国际贸易经济合作研究院副研究员庞超然表示,我国实际利用外资实现逆势增长,一方面得益于国内疫情得到较好控制,企业复产复工形势持续向好;
On the other hand, growth increased due to the rapid recovery of the country's economy, which makes foreign-invested enterprises put more emphasis on the Chinese market.
另一方面得益于国内经济快速恢复,外资企业更加重视中国市场。


[Photo/CGTN]
>'Angry birds' figurine found
三星堆出土陶猪成网红
A 3,200-year-old clay figurine, unearthed by Chinese archaeologists in Sichuan province, seems to bear an uncanny resemblance to the green pig from the Angry Birds mobile game.
我国考古学家在四川省挖掘出土的一个3200年前的陶猪竟与《愤怒的小鸟》手游中的绿皮猪有着惊人的相似。
The discovery has left Chinese netizens surprised and delighted in equal measure, with the topic attracting millions of views online.
这一发现让中国网民又惊又喜,该话题点击浏览数达数百万次。
The artifact was discovered during excavations at the site of an ancient settlement, some eight kilometers south of the prehistoric Sanxingdui Ruins in today's Guanghan city.
考古学家在距广汉市史前三星堆遗址以南约8公里处发掘一处古代聚落遗址时发现了这个陶猪。
It was part of a collection of pottery, porcelain and stoneware discovered at the location, in an impressive find researchers say will help them better understand the Shu Kingdom, which dates back 2,600 to 4,800 years.
在此与陶猪同时出土的还有大量陶器、瓷器和石器。研究人员表示,这次发现意义重大,将有助于他们更好地了解距今4800至2600年前的古蜀国。
"The site reflects an uninterrupted regional development history of nearly 5,000 years," said Xin Zhonghua, an associate researcher with the Sichuan Provincial Cultural Relics and Archaeology Research Institute."
四川省文物考古研究院副研究员辛中华说:"这座遗址反映了近5000年来不间断的区域发展历史。"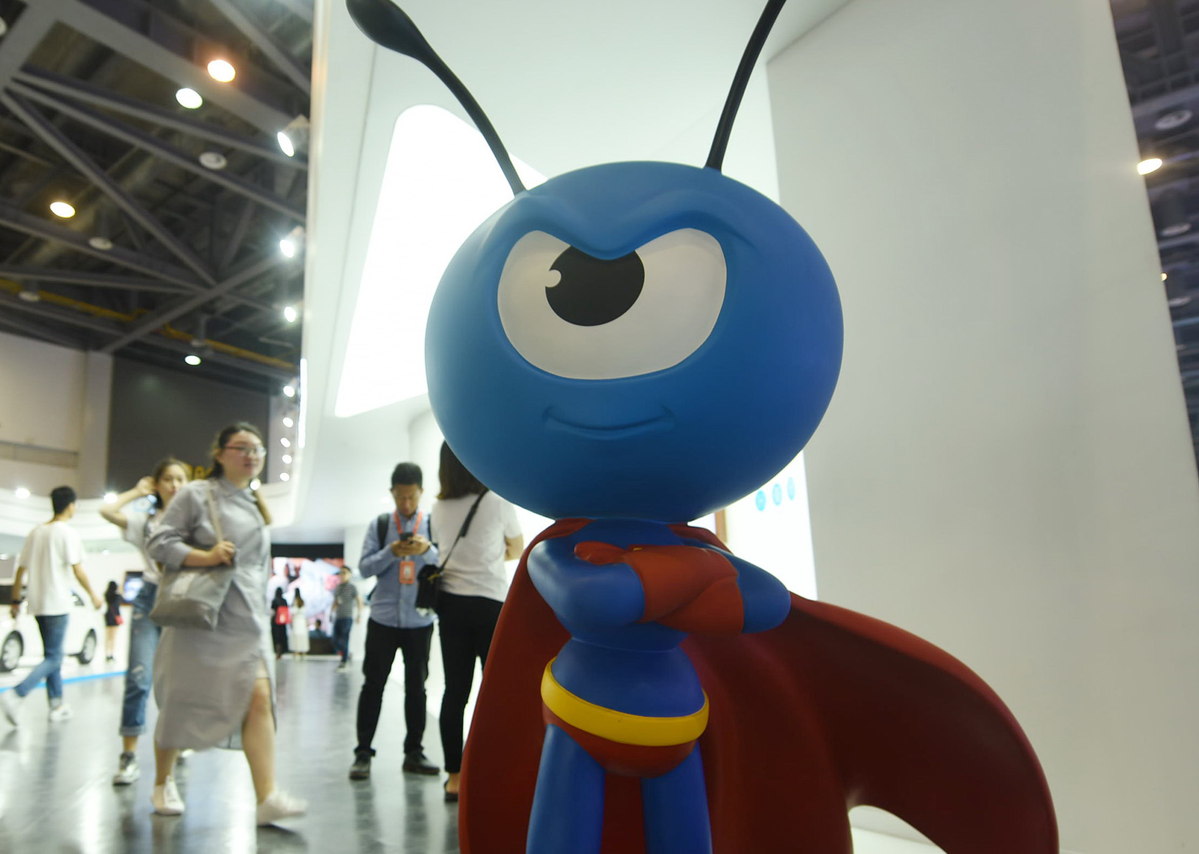 An Ant Group mascot is seen in Hangzhou, capital of Zhejiang province. [Photo/China Daily]
>China boasts top unicorns
胡润全球独角兽榜发布
A list of global start-ups worth at least a billion dollars who have yet to go public, also known as unicorns, was released on Tuesday by ranking agency Hurun and Suzhou New District.
8月4日,排行榜机构胡润和苏州高新区发布了全球独角兽排行榜,独角兽是指价值10亿美元以上的非上市初创公司。
The agency said the number of unicorns reached 586, an increase of 92 from last year. These start-ups are based in 29 countries and 145 cities, with 80% selling software and services, 60% consumer-facing and 5% in traditional sectors.
胡润称,上榜独角兽公司达586家,比去年增加92家。这些公司分布在29个国家、145个城市,其中80%公司主营软件销售和服务,60%为面向消费者型公司,5%经营传统行业。
Their total valuation is $1.9 trillion.
今年上榜独角兽公司总估值达1.9万亿美元。
China's Ant Financial topped the list with a valuation of 1 trillion yuan, followed by China's ByteDance and Didi Chuxing.
中国的蚂蚁金服以1万亿元的估值位居榜首,中国的字节跳动和滴滴出行紧随其后。
Moreover, six of the top 10 unicorns by valuation are from China, the other three being Lufax, Kuaishou and Cainiao.
此外,估值排名前十公司中有六家来自中国,另外三个上榜公司分别是陆金所、快手和菜鸟。
The US has 233 unicorns, just ahead of China's 227, and the two countries make up 79% of the world's total.
美国有233家独角兽公司,略高于中国的227家,美中两国独角兽公司占全球总数的79%。

Find more audio news on the China Daily app.