Harvey Weinstein arrives at New York Criminal Court in Manhattan on Monday. Weinstein was found guilty of sex crimes against two women. His sentencing is scheduled for March 11.[Photo/Agencies]
>Weinstein guilty of sex crimes
韦恩斯坦性侵罪名成立
Harvey Weinstein, the former movie mogul whose alleged sexual misconduct jump-started the #MeToo movement, was convicted of sexual assault by a New York jury on Monday but acquitted on the most serious charges that could have sent him to prison for the rest of his life.
24日,纽约一个陪审团宣布前电影大亨哈维·韦恩斯坦性侵罪成立,但本可使他终身监禁的最严重的几项指控不成立。#MeToo运动就是因韦恩斯坦性丑闻案而起。
Weinstein, 67, was convicted of sexually assaulting former production assistant Mimi Haleyi in 2006 and raping Jessica Mann, a onetime aspiring actress, in 2013. He faces up to 25 years in prison on the sexual assault conviction.
现年67岁的韦恩斯坦被告于2006年性侵前制片助理咪咪·哈莱伊,于2013年强奸曾立志成为演员的杰西卡·曼恩,此两项罪名成立。性侵罪名使他面临最高25年的监禁。
The jury acquitted Weinstein on two counts of predatory sexual assault, which carried a potential life sentence, and first-degree rape of Mann.
陪审团裁定韦恩斯坦两项严重掠夺性侵罪名和曼恩指控的一级强奸罪名不成立,前者若定罪可判终身监禁。
The trial began on Jan 6 and included the testimony of six women who said - under oath - that Weinstein had sexually assaulted them over the last three decades.
法院于1月6日开庭,六名女性为此案作证,她们指控韦恩斯坦在过去30年内曾对她们实施过性侵。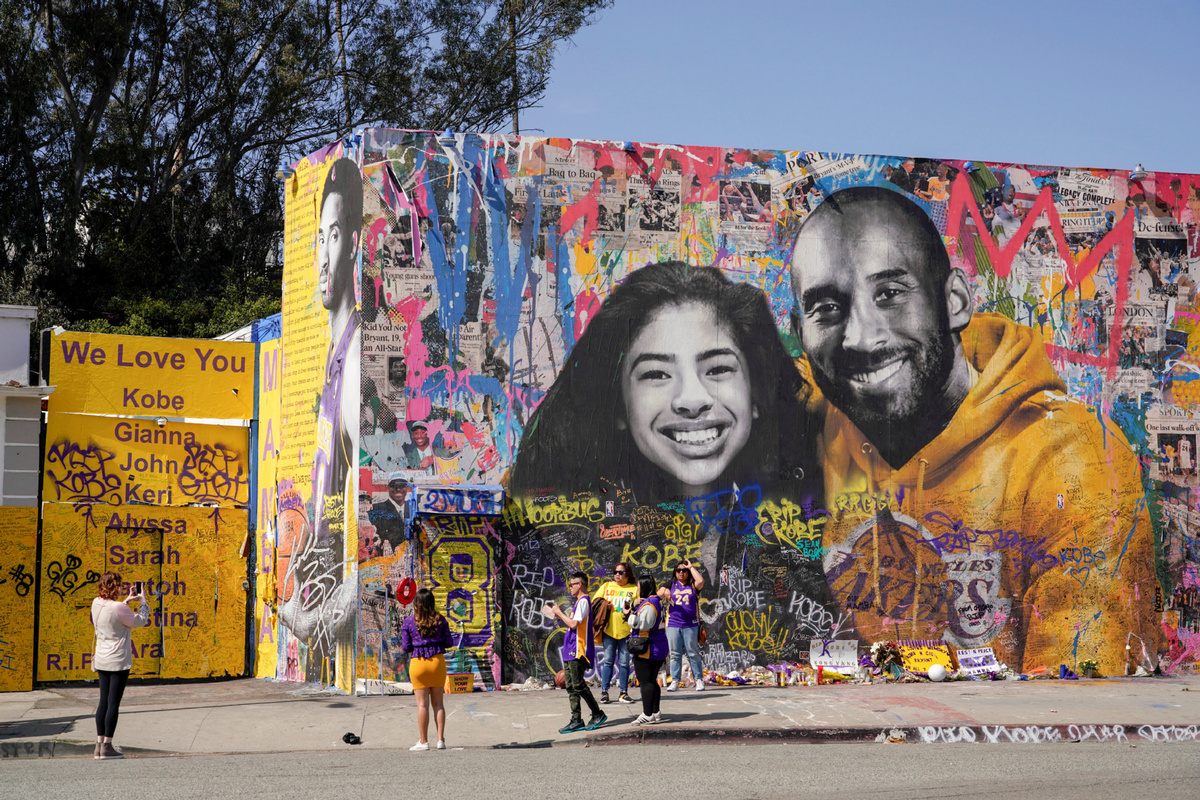 Fans gather around a mural of late NBA great Kobe Bryant and his daughter Gianna Bryant during a public memorial for them and seven others killed in a helicopter crash, at the Staples Center in Los Angeles, California, US, Feb 24, 2020. [Photo/Agencies]
>Vanessa sues helicopter company
科比遗孀诉直升机公司
Kobe Bryant's wife, Vanessa Bryant, filed a lawsuit Monday against the company that owned the helicopter that crashed last month, claiming the lives of her husband, her 13-year-old daughter, and seven other victims.
科比·布莱恩特的遗孀瓦妮莎·布莱恩特24日对上个月失事直升机所属的公司提起诉讼,这场事故夺去了她丈夫科比、13岁女儿以及另外7人的生命。
According to US celebrity-gossip site TMZ, the lawsuit alleges the company, Island Express, was only allowed to fly under visual flight rules, and the conditions the day of the crash were not conducive for such flying.
根据美国名人八卦网站TMZ消息,起诉书称,Island Express公司只允许在目视航行规则下飞行,但事故当天的天气状况不宜进行此类飞行。
TMZ was the first news outlet to report the shocking news that Kobe died in the helicopter crash.
TMZ是最先爆出科比死于直升机坠机事故的新闻媒体。
The lawsuit also claims the pilot failed to properly monitor and assess the weather prior to takeoff, failed to obtain proper weather data prior to the flight, failed to abort the flight when he knew of the cloudy conditions, failed to maintain control of the helicopter and failed to avoid "natural obstacles" in the flight path.
起诉书中还指出,飞行员在起飞前未能正确监测与评估天气情况,未能获得正确天气数据,在发现多云后未能中止飞行、未能保持对直升机的控制,未能避开飞行路线上的"天然障碍物"。
The lawsuit does not list an amount of damages sought, but Vanessa is asking for punitive damages, claiming the pilot and Island Express were reckless, and the damages could be millions, according to TMZ.
虽然这份起诉中没有提到具体的赔偿金额,但是瓦妮莎要求飞行员和Island Express公司为他们的鲁莽行为付出惩罚性赔偿,金额可达数百万。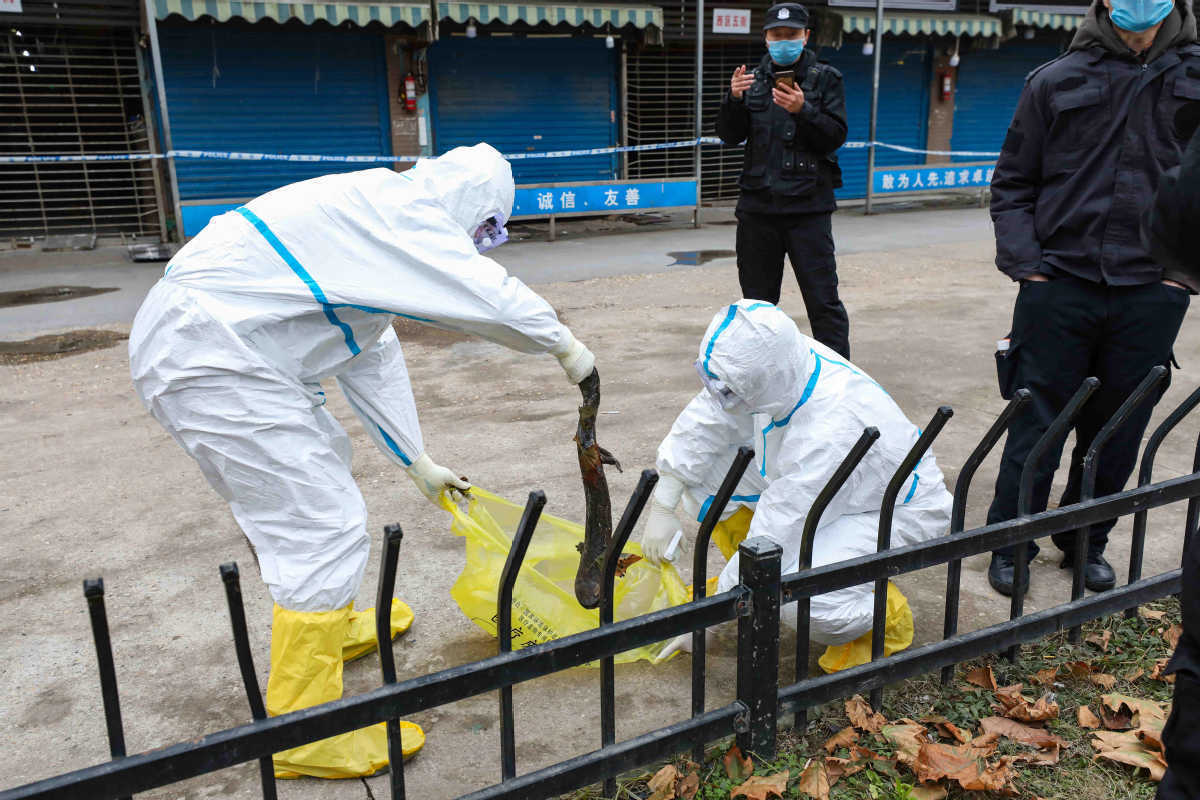 Workers catch a giant salamander which is still alive outside the Huanan Seafood Market in Wuhan city, Hubei province, Jan 27, 2020. [Photo by Yuan Zheng/chinadaily.com.cn]
>Wildlife consumption ban
我国全面禁食野生动物
The outbreak of the novel coronavirus, which is widely believed to have originated in wild animals, has prompted China's top legislature to roll out a swift decision to comprehensively ban the eating of wildlife across the country.
由于新冠肺炎疫情暴发,我国立法机关迅速通过了一项关于全面禁食野生动物的决定。
A decision made by the National People's Congress Standing Committee on Monday has made it clear that all wildlife on the protection list of the existing Wild Animal Protection Law or other laws, and all terrestrial wildlife, including those artificially bred and farmed, are banned from consumption.
全国人大常委会24日表决通过的这项决定明确规定,凡野生动物保护法和其他有关法律禁止捕食的动物,以及所有陆生野生动物(包括人工繁育、人工饲养的陆生野生动物),均全面禁止食用。
The decision, with immediate effect, also calls for harsh penalties for the hunting, trading and transportation of wild animals on the protection list of existing laws.
根据决定,对于违反现行法律规定,猎捕、交易、运输野生动物的,将予以重罚。该决定自公布之日起施行。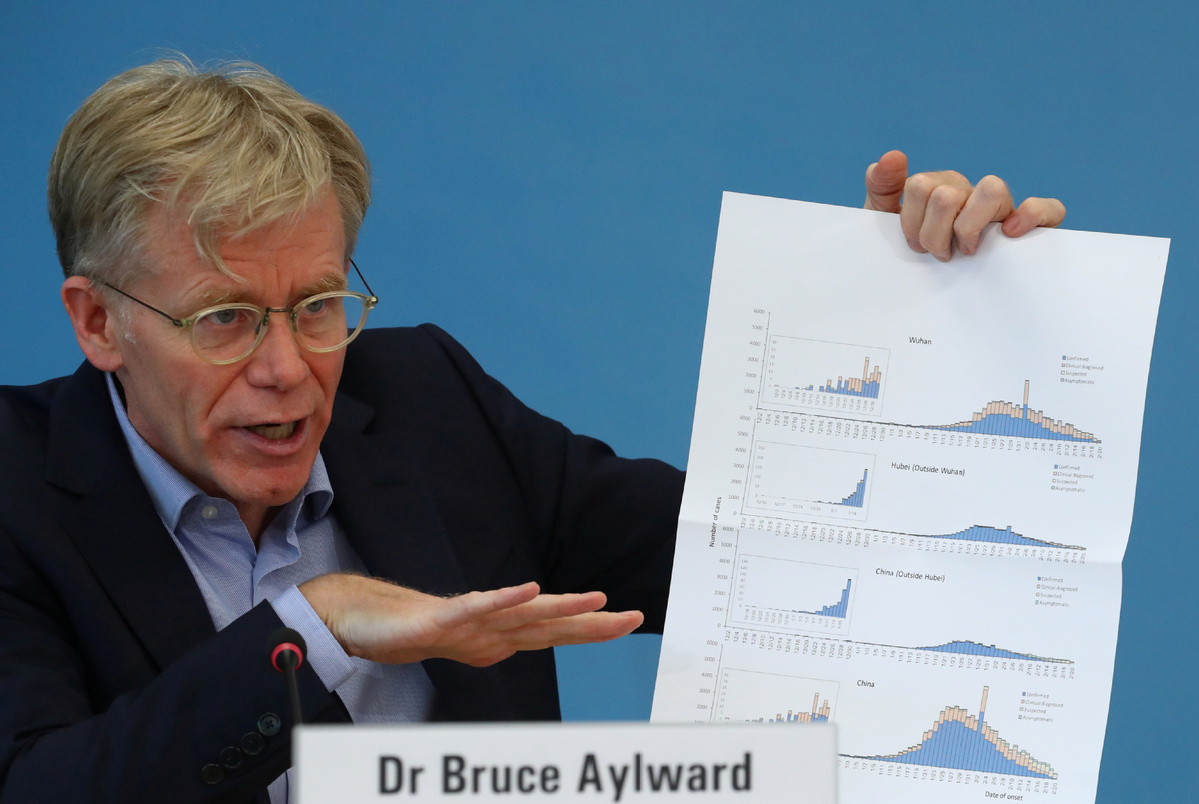 Bruce Aylward, International team lead for the WHO-China joint mission on COVID-19 coronavirus attends a news conference after his trip to China at the World Health Organization (WHO) in Geneva, Switzerland, Feb 25, 2020. [Photo/Agencies]
>WHO: coronavirus not a pandemic
世卫:疫情未构成大流行
The novel coronavirus outbreak can still be beaten, the World Health Organization said on Monday, insisting it was premature to declare it a pandemic even though it had the potential to reach that level.
世界卫生组织24日表示,新冠肺炎疫情仍然可以被战胜,现在宣布它为全球性流行病还为时过早,尽管存在这种可能性。
"The key message that should give all countries hope, courage and confidence is that this virus can be contained," WHO Director-General Tedros Adhanom Ghebreyesus told a news conference in Geneva.
世卫组织总干事谭德塞在日内瓦举行的记者会上说:"应该给所有国家带来希望、勇气和信心的关键信息是'该(新冠)病毒可以被遏制"。
"Using the word 'pandemic' now does not fit the facts but may certainly cause fear," he said. "We must focus on containment while doing everything we can to prepare for a potential pandemic."
"目前使用'全球性流行病'一词不符合事实,却一定会引起恐慌。我们现在应该集中精力控制疫情,尽一切努力为潜在的全球流行做好准备。"
Tedros said a sudden increase of cases in Italy, Iran and South Korea were "deeply concerning" but for now authorities were not seeing an uncontained global spread of the virus or witnessing widespread serious cases or deaths.
谭德塞表示,意大利、伊朗和韩国的病例数陡增令人十分担忧,但目前并未看到这种病毒在全球范围内不受控制地传播,也未看到重症病例或死亡病例大规模出现。
Find more audio news on the China Daily app.