If you ever feel a little bit under the weather, the Internet will surely jump in to help with an infinite amount of adorable cat videos and all kinds of other fluffs you could possibly want to brighten up your day.
当你情绪不佳的时候,看看网上的萌猫和各种毛茸茸小动物的视频,心情或许就能由阴转晴。
Of course, cute little kitties might not be everyone's cup of tea but not to worry, since there are so many other kinds of fluffs (and not only them) to cheer anyone up.
当然啦,也不是每个人都喜欢小萌猫。不过不用担心,因为除了小猫咪,其它毛茸茸的小动物也很可爱,这种可爱也是治愈心情的良方。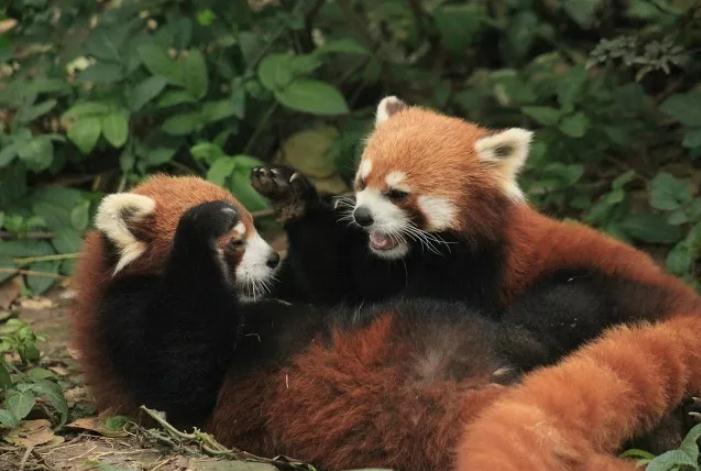 And sometimes all you need is just a little something behind that cute photo or video, therefore this time we are here to warm up your hearts with the cutest uplifting facts the animal kingdom has to offer!
不过有时,你需要了解一些可爱小动物照片或视频背后的故事。因此,这次我们要介绍动物王国里最有趣的事实,希望这些小可爱能够温暖你。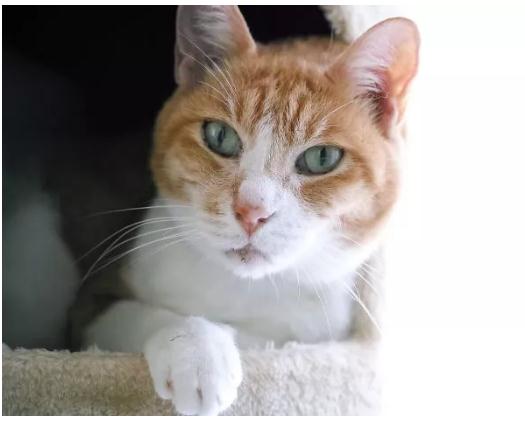 Cat
Cats don't think of us as humans. Instead, they see us as equals, just like other cats.
猫没有视人类为异己,而是平等对待人类和同类。
By nudging you with their heads (bunting) they're actually greeting you as they would another member of their cat family. This means that to them we're probably the ugliest, biggest, and clumsiest cats they've ever seen but they accept you into their family and love you anyway.
猫会用头蹭你、顶你,这实际上是在和你打招呼,就像和猫家族的另一个成员打招呼一样。所以,在它们眼里,我们可能是最丑、最大和最笨的猫。但值得庆幸的是,它们接受我们成为家里的一份子,并且还会不求回报地爱着你。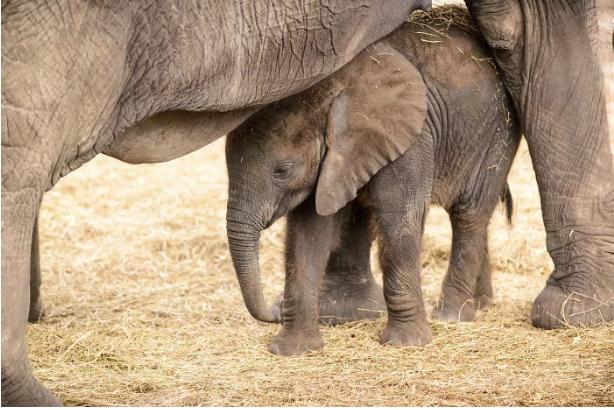 Elephant
When a baby elephant is born, other mothers in the social group will trumpet to celebrate or announce the baby's arrival.
小象宝宝出生时,同群落的象妈妈会发出叫声来庆祝或宣布这位宝贝的到来。
Elephants tend to stay in close "family" groups for their whole lives, which are generally made up of female elephants (the males often leave the group to go mate, but sometimes group up with other solitary males). So other female elephants are often present for new births.
大象的一生会生活在一个密不可分的"家庭"中。不过这个大家庭一般由雌象组成(雄象经常会离家出走寻找交配对象。不过有时它们也会组成一个雄象家族)。雌象经常会陪伴在象宝宝左右。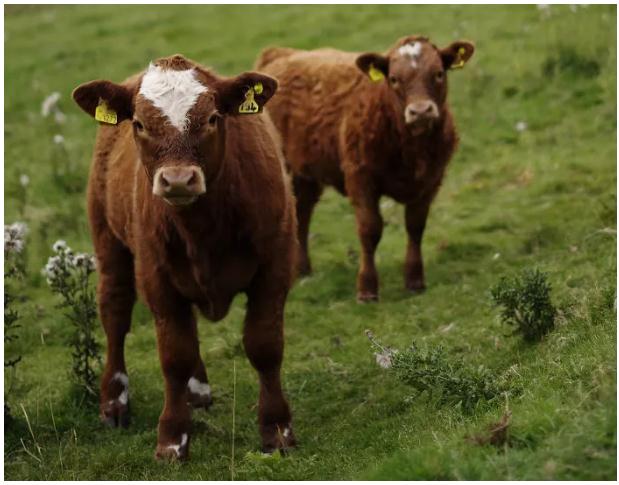 Cow
Cows have "best friends" and are happier when they're with them.
牛有自己 "最好的朋友",并且和好朋友在一起时会更开心。
A study from Northampton University found that when cows were paired with another cow that shared a social bond with them, their heart rate was lower and they were more relaxed while they were penned.
英国北安普顿大学的一项研究发现,当牛与有共同社会联系的同伴在一起时,它们的心率会更低,在围栏中会更放松。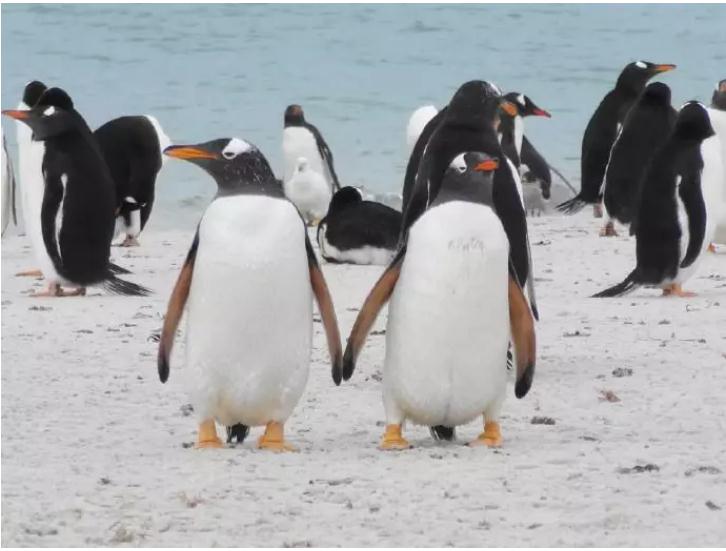 Penguin
There's an abandoned minefield that has accidentally created a penguin sanctuary. The mines keep poachers out, but the penguins are too small to set them off.
一片废弃的地雷区阻挡了盗猎者,意外成为企鹅的庇佑所。幸好企鹅体重较轻,不会引爆地雷。
The mines were set on the Falkland Islands when Argentinian commandos occupied the territory in a 1982 conflict with British forces.
这片雷区在福克兰群岛。1982年,阿根廷突击队在与英国军队发生冲突后,占领了该群岛。
Since then, Magellanic penguins have thrived in the area. And because the areas are well-marked and fenced off, no civilian has been injured by the mines, either.
从那之后,麦哲伦企鹅开始在这片区域繁衍生息。由于这片区域有明显的雷区标示,并且有栅栏隔开,所以百姓没有被误伤。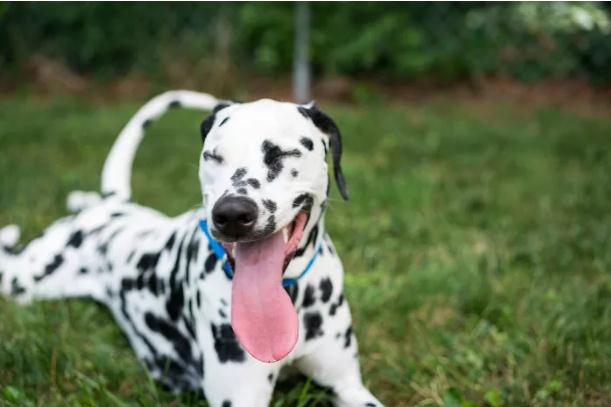 Dog
Your dog actually loves you, not just because you give them food and walks.
你的狗狗很爱你,并不仅仅因为你是饲主还带它遛弯。
Studies that measured oxytocin levels, heart rates, and other biometrics showed that levels of bonding hormones rose and heart rates fell in both humans and their dogs after interacting with each other.
催产素水平、心率和其它生物测定学的数据表明,人和狗狗的互动会提升双方的融合激素水平并延缓心率。
In other words, when you pet your dog, both of you produce more of the same hormone in your brain that makes you fall in love with people, and both of you relax more.
换言之,当你爱抚狗狗时,你们的大脑会产生同样的荷尔蒙,变得更加放松。
Dolphin
Dolphin mothers sing to their babies while they're in the womb.
海豚妈妈给它们未出生的宝贝唱歌。
According to a study at the University of Southern Mississippi, dolphin mothers will make a "signature whistle" for the benefit of their calf while it's in the womb. This whistle is thought to act as a sort of "name" for the mother, allowing the calf and mother to locate each other easily once it's born.
南密西西比大学的一项研究表明,当海豚宝宝还在妈妈的子宫里时,海豚妈妈会发出一种"标志性哨声"代表自己。宝宝出生后,母子就可以凭借哨声轻松找到对方。
After the calf is born, other nearby adult dolphins will whistle less, likely to help the calf learn and use the right whistle.
同时,附近的成年海豚会减少发出哨声,帮助海豚宝宝学习使用正确的哨声。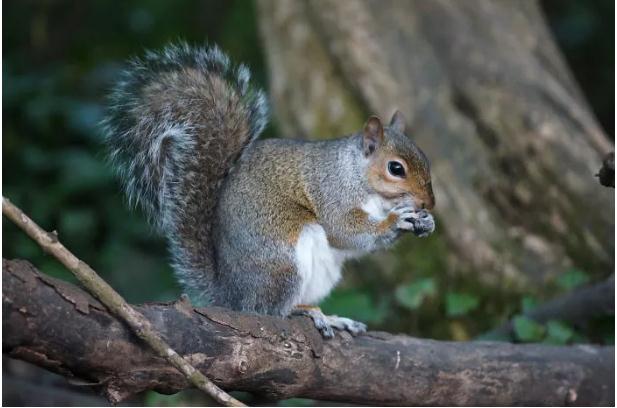 Squirrel
Hundreds of trees become seedlings every year because of squirrels forgetting where they buried their food.
因为松鼠常忘记自己埋藏食物的地点,所以地球每年多长出数百颗小树苗。
According to Rob Swihart, a professor of wildlife science at Purdue University, gray squirrels bury their food (nuts, acorns, etc.) all over the place but often forget to dig them back up. Those buried seeds have a good chance of becoming full-grown trees.
美国普度大学野生生物专家Rob Swihart称,灰松鼠到处埋藏坚果和橡子等,却经常忘记挖出来吃掉,不过这些种子也获得了长成大树的机会。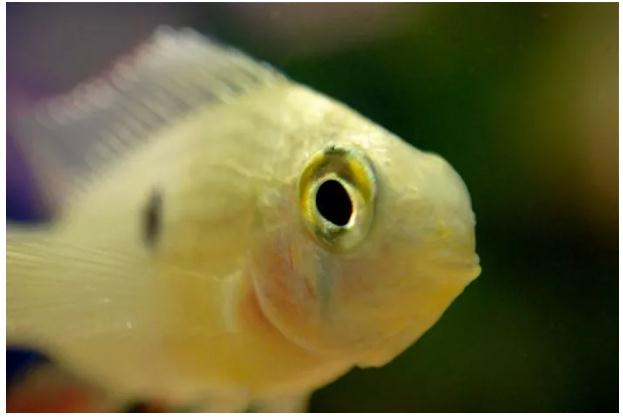 Fish
Some fish can recognize their owner's face.
一些鱼能认出主人的脸。
Fish can learn to recognize their owner. People have a misconception that fish can't see out of the glass of their aquariums, but the reality is that they have surprisingly good eyesight. They also tend to have different personalities. For example, some fish like to be petted.
鱼可以学习认出它们的主人。人们常误以为鱼不能透过水箱看到外面的东西,其实它们的视力却出奇的好。不同的鱼还有不同的个性特点,比如有的鱼就喜欢被爱抚。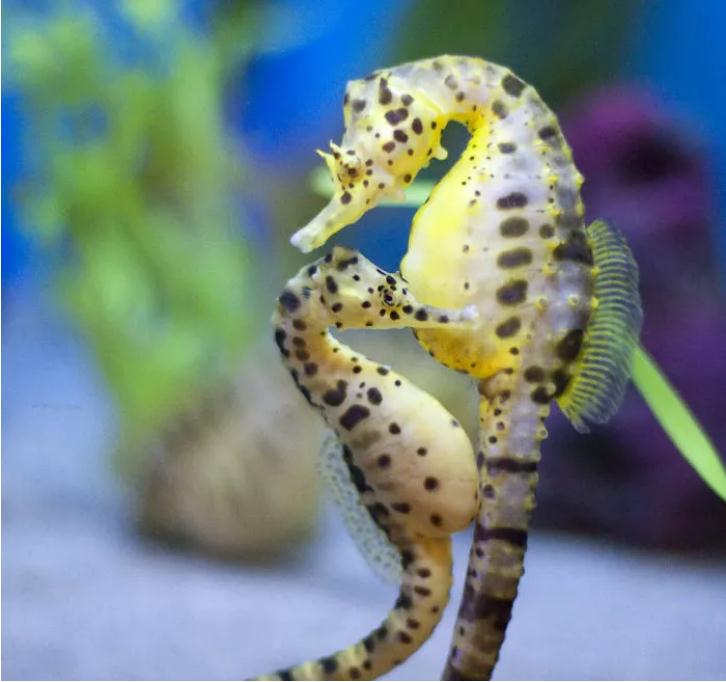 Seahorse
Seahorses get "married".
海马会成双结对"结婚"。
Seahorses tend to be monogamous and will intertwine their tails to stick together while floating through the ocean. Is it because they're cute and loving, or is it just an evolutionary aspect of their species?
海马倾向一夫一妻制,当它们在海洋中浮游时,它们的尾巴常会缠绕在一起。这是因为它们可爱而有爱,还是物种进化的一个特征而已?
The truth is, seahorses are pretty bad swimmers and spend a lot of time hiding from predators. Finding a mate for life boosts their chances of successful reproduction.
实际上,海马不善于游泳。它们会花很多时间来躲开捕食者。找到终身伴侣可以增加它们成功繁殖的机会。
Source: Boredpanda
Editors: Shang Zhen, Zhang Xi
Intern: Su Yanlei