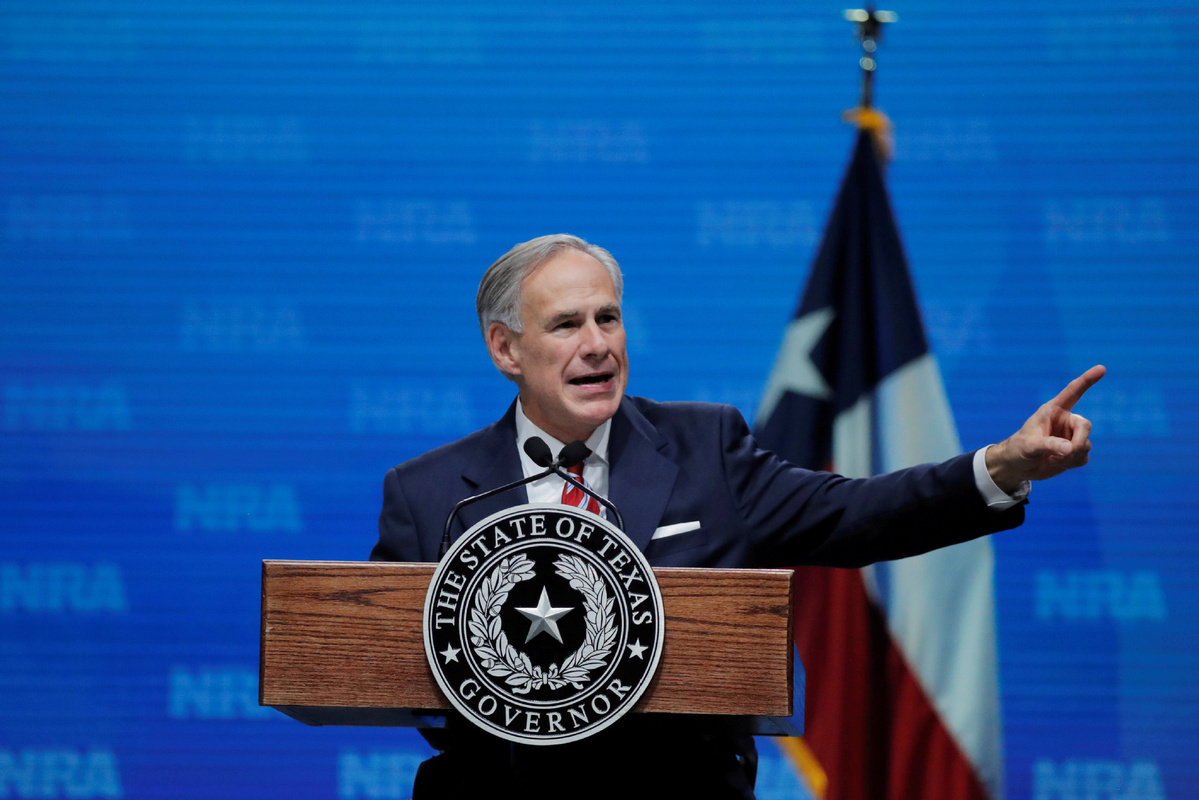 Texas Governor Greg Abbott [Photo/Agencies]
Texas Governor Greg Abbott has signed a bill that would prohibit abortions in the state as early as six weeks — before some women know they are pregnant — and instead of having the government enforce the law, the bill allows private citizens to sue doctors or abortion clinic employees who would perform or help arrange for the procedure.
A person who sued wouldn't have to be connected to someone who had an abortion or to a provider and would be awarded at least $10,000, as well as costs for attorney's fees, if they won.
Abbott signed the legislation, also known as the "heartbeat law'', on Wednesday, saying: "Our creator endowed us with the right to life and yet millions of children lose their right to life every year because of abortion. In Texas, we work to save those lives."
The legislation also would ban abortions if a woman was impregnated as a result of rape or incest. There is an exception for medical emergencies.
Abortion rights advocates say they will challenge the new law because it would amount to an outright ban on abortions, as many women are not aware, they are pregnant at the six-week mark.
The bill contains legal provisions intended to make the law harder to block. While abortion providers typically sue a state to stop a restrictive abortion law from taking effect, there's no state official enforcing the new bill so there is no one to sue, the bill's proponents say.
Abortion rights advocates and lawyers say the new law would allow for a cascade of lawsuits against abortion providers that would sap their time and money even if they ultimately won in court.
"It's a very unique law and it's a very clever law," said Josh Blackman, a constitutional law professor at South Texas College of Law Houston. "Planned Parenthood can't go to court and sue Attorney General [Ken] Paxton like they usually would because he has no role in enforcing the statute. They have to basically sit and wait to be sued."
The bill comes after the US Supreme Court on Monday agreed to hear a challenge to a Mississippi law that bans almost all abortions after 15 weeks of pregnancy. The case presents a direct challenge to Roe v. Wade, the landmark 1973 Supreme Court decision that established a constitutional right to abortion.
It would be the first major abortion case heard before the court's newly expanded conservative majority, and could affect Texas, where a pending bill would outlaw nearly all abortions if the court overrules Roe v. Wade.
Elisabeth Smith, chief counsel for state policy and advocacy at the Center for Reproductive Rights, which has represented abortion providers who have sued Texas officials, said it and other abortion rights organizations are "not going to let this six-week ban go unchallenged".
Drucilla Tigner, policy and advocacy strategist of the American Civil Liberties Union (ACLU) of Texas, said the "governor's swipe of a pen can't change the Constitution".