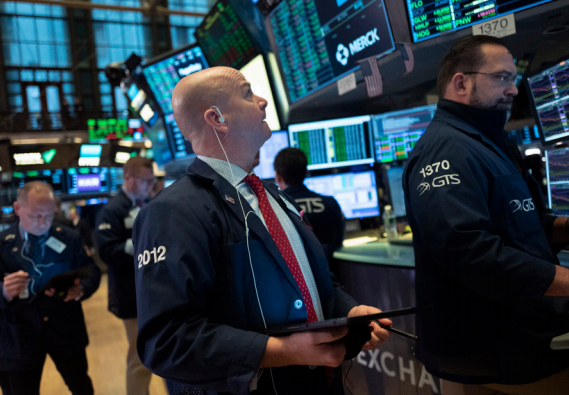 [Photo/Agencies]
US stocks bounced higher at the market open Tuesday but soon turned negative following a crushing selloff Monday that pushed the major indexes further into bear territory.
The Dow Jones Industrial Average rose as much as 345 points, or 1.8 percent, at the open but quickly backed off and fell into the red. The blue chip index was recently down 215 points, or 1.07 percent, suggesting more volatility ahead.
The S&P 500 rose 0.97 percent in early trading but soon turned negative. The Nasdaq Composite slipped into the red after edging up 1.07 percent.
Overnight, futures bounced wildly and hit their upside limits, triggering a temporary halt to ensure orderly trading.
The market's gyrations suggest further volatility in ahead rather than building the foundation for a turnaround amid fears of the spread of the coronavirus, also called COVID-19.
The Chicago Board Options Exchange's volatility index, called VIX, registered its highest-ever close Monday at 82.69, topping the 80.74 posted during the 2008 financial crisis triggered by the collapse of the sub-prime housing market. But the index declined 2.21 points early Tuesday. The "fear index" gauges the market's expectation of volatility based on S&P 500 Index options.
Economist Alan Blinder said the US is probably in a recession caused by 11fear of shopping" and being in public places where the coronavirus can be spread. Consumer spending represents about 70 percent of the US economy.
11I wouldn't be surprised if when we look back at the data, it is decided that the recession started in March," Blinder, a former vice chairman of the Federal Reserve and now a professor at Princeton University, told CNBC.
"We won't know that. It take months to get the data that would be relevant to (make) a call like that. But it wouldn't be a bit surprising to me."
He said it's easy to understand why people avoid restaurants, shopping and travel during the coronavirus outbreak.
"Spending on all those categories has probably plummeted and much faster than our system catches it," Blinder said.
The US Commerce Department said Tuesday that retail sales in February declined a seasonally adjusted 0.5 percent. Economists had expected sales at stores, restaurants and e-commerce websites to increase 0.1 percent.
The market has been roiled by the uncertainty created by the coronavirus.
"Although the contemporary crisis is loaded with bad news, this has not been its primary problem. It's the 'unknown,'" Jim Paulsen, chief investment strategist at The Leuthold Group, said in a research note.
"Not even health experts understand what this is or where it is headed, and that is the worst possible outcome for investors. Give me bad news any day over complete uncertainty."
In a disclosure statement filed Tuesday with the Securities and Exchange Commission, fast food giant McDonald's said the "negative financial impact" to sales cannot be reasonably estimated. It noted that "substantially all" locations in the US have closed eat-in dining areas but continue to offer offer drive-thru window service, takeout or home delivery.
"The recent (coronavirus) outbreak has disrupted operations of McDonald's restaurants in numerous markets around the world," the company said in the SEC filing. "Our primary focus and attention is directed towards the well-being and safety of restaurant crew, franchises and employees."
All McDonald's restaurants are closed in Italy and Spain, but continue provide limited service is Canada and France. Most outlets are open in Japan and 95 percent of its locations in China are operating, the company said.
McDonald's stock recently changed hands at $144.45 a share, down $4.57 or 3.07 percent. The 52-week high is $221.93.
In a tweet, US President Donald Trump said, "The United States will be powerfully supporting those industries, like Airlines and others, that are particularly affected by the Chinese Virus. We will be stronger than ever before!"
On Tuesday, China's foreign ministry said Trump's calling the coronavirus a "Chinese virus" smears China, Reuters reported.
Geng Shuang, foreign ministry spokesman, told reporters that China opposed Trump's choice of words and said the US should first take care of its own affairs.