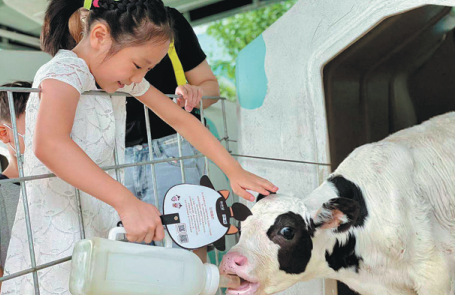 A girl feeds a cow during a summer program, launched by Crowne Plaza Chengdu West in cooperation with a local cattle ranch.[Photo provided to China Daily]
Family domestic trips have risen during the two-month summer holiday starting July 1, with the total value of bookings surging more than four times that of last summer, according to an industry report.
The report, published recently by Chinese online travel agency Trip.com, said that 59 percent of people booking flights on its platform for the summer holidays intend to travel with their children, up 8 percentage points from the same period of 2019.
Of such travelers, parents born in the 1980s and children born in the 2010s comprised about 60 percent.
Shanghai was the most popular departure city for family trips, followed by Beijing and Chengdu in Sichuan province, according to data from Ctrip, a Chinese travel booking platform.
Island trips are a favorite among families in the summer, the report said, with nearly a quarter of them booking flights to coastal cities such as Sanya in Hainan province, Qingdao in Shandong province and Dalian in Liaoning province.
Families showed strong demand for night tours due to the searing summer temperature. As a result, some zoos, museums and parks have provided accommodation and nighttime activities such as camping and night markets.
Among the most favored scenic areas for family night tours were Shanghai Disney Resort, Haichang Ocean Park in Shanghai, and the Badaling section of the Great Wall in Beijing, the report said.
More than entertainment, parents want their children to acquire knowledge or skills while traveling, so study tours have gained huge popularity, the report said.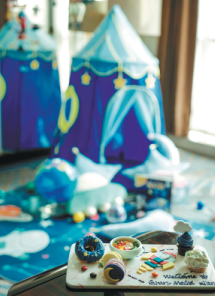 Desserts outside a kids' play tent provide a sweet treat in a room at Gran Melia Xian.[Photo provided to China Daily]
Ctrip registered a year-on-year increase of 200 percent in searches for study tours this summer. Meanwhile, the number of study tours rose by 650 percent compared with the same period last year.
Zhang Ning, 33, from Hubei province, joined an astronomy-themed summer camp with her son in the Ningxia Hui autonomous region earlier this month.
The six-day tour featured a variety of activities such as camping, desert hiking and observing stars with telescopes, Zhang said.
"My 9-year-old son is an astronomy enthusiast, but he rarely sees (so many clear) stars in the city. The trip made him very excited and more curious about space," Zhang added.
Zou Qingling, CEO of online travel service provider Lvmama, said astronomy-themed family trips are a new trend this summer on the back of China's recent aerospace achievements.
In addition, routes with themes of patriotic education, traditional culture and wildlife observation are among the best-selling study tour products, Zou said.
People have growing expectations for family trips, and they tend to opt for high-end products with interesting activities, specific themes and customized services, according to research from online travel agency Ly.com.
In terms of catering and accommodation, hoteliers are striving to satisfy increasingly picky parents by launching multiple packages and services.
Five-star hotel The Peninsula Beijing, for example, launched a midsummer promotion in June featuring the Japanese cartoon character Hello Kitty. During the three-month event, families can enjoy a Hello Kitty-themed suite and a signature afternoon tea, as well as special activities designed for children.
Other hoteliers such as Gran Melia Xian in Shaanxi province, Shanghai Marriott Hotel Pudong East and Hilton Shenyang in Liaoning province, launched new family suites this summer, providing a full set of child-friendly amenities including bathrobes embroidered with cartoon characters or animal images, as well as toys.
Guests who booked the "Family Joy" room package at Hilton Shenyang will receive a Hilton mystery box as well as a gift pack for children containing a hat, a luggage tag and a cutlery set.
Crowne Plaza Chengdu West joined hands with a local cattle ranch, offering a two-day summer camp. In addition to buffets and a well-decorated suite, families can get up close with calves and take part in activities such as milking cows. Kids can also learn to make fruit cakes and origami animals under the guidance of the hotel's chefs and butlers.
According to the report, families were the major consumers of accommodation packages covering meals and activities this summer. The total booking volume of accommodation packages on its platform soared 15 times that of last summer, Trip.com said.