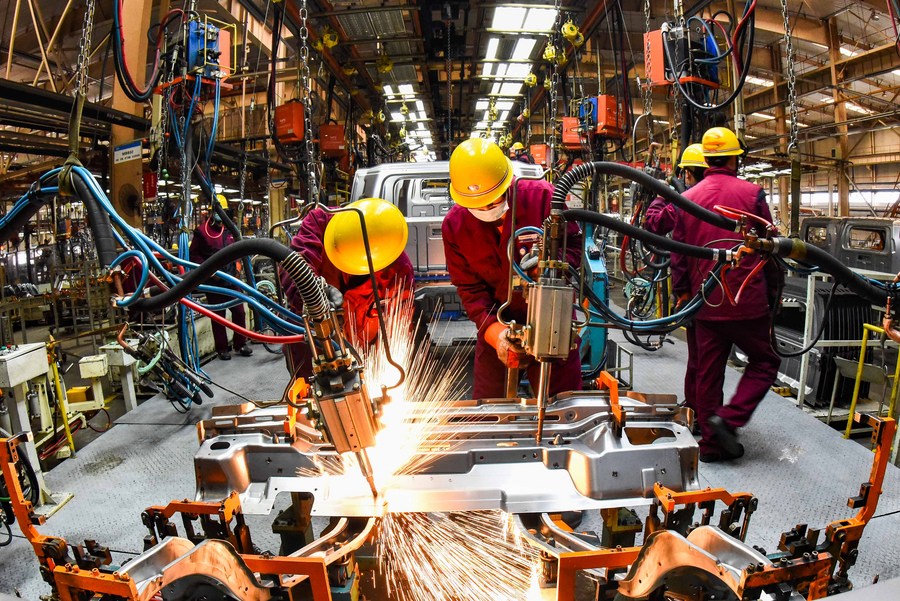 Workers weld at a workshop of an automobile manufacturing enterprise in Qingzhou city, East China's Shandong province, Feb 28, 2021. [Photo/Xinhua]
China is expected to comfortably beat the minimum target of 6 percent growth set by the government, according to the Trade and Development Report 2021 released by the United Nations Conference on Trade and Development on Wednesday.
The country's economic growth is projected to reach 8.3 percent in 2021 due to continuing recovery of global demand and the nation's role as a key player in the international supply chain of electronics and communications goods, with healthcare equipment and vaccines providing a strong boost to the export sector, said the report.
Although the latest data from China were weaker than expected, China still can reach 8 percent growth rate as the country has a lot of fiscal and monetary space, said Richard Kozul-Wright, UNCTAD's director of the division on globalization and development strategies, to China Daily website.
Meanwhile, the global economy will bounce back with growth of 5.3 percent this year, the fastest in nearly 50 years, the report said, thanks to the continued radical policy interventions launched in 2020 and the ongoing vaccine roll-out in advanced economies. However, the rebound is highly uneven along "regional, sectoral and income lines".
Constraints on fiscal space, lack of monetary autonomy and access to vaccines are holding many developing economies back.
In the report, the UNCTAD also calls for bold support for developing nations in vaccine deployment.
"COVID-19 is not going to be the last health crisis that countries face over the next decade, and countries need to be able to respond with their own capacity," said Kozul-Wright.
"So we do think it's very important to developing countries begin to have the capacity to manufacture vaccines themselves, and so everything should be done to help them in that regard."