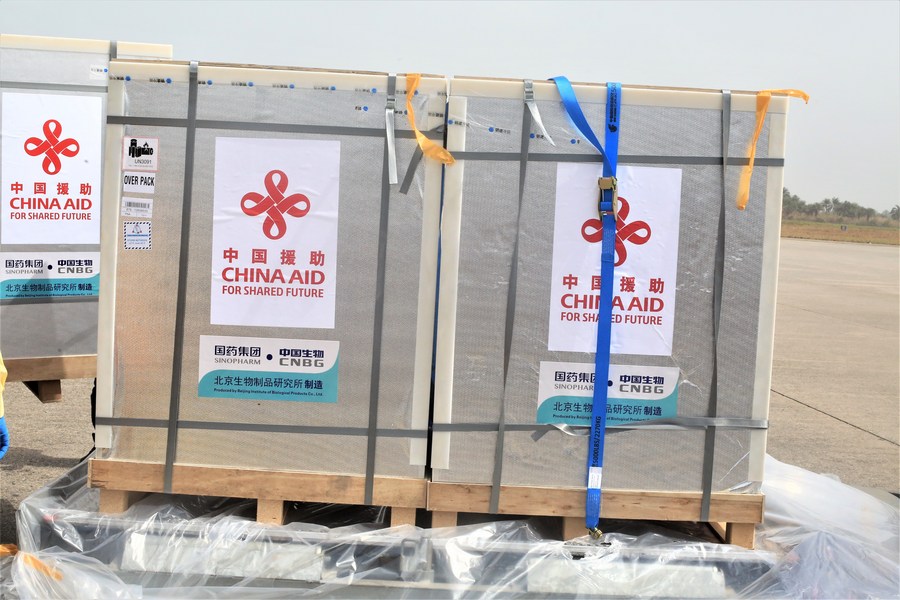 Photo taken on Feb 25, 2021 shows a consignment of the Sinopharm COVID-19 vaccine donated by China at an airport in Freetown, Sierra Leone. [Photo/Xinhua]
For half a century since the establishment of diplomatic relations between Sierra Leone and China, despite the changing international sphere, the bilateral relations have held strong, and the two nations have maintained a high level of mutual trust and genuine friendship with tangible developmental results.
People-to-people bonds play a vital role in building the China-Sierra Leone shared future. Driven by the Belt and Road Initiative, our two countries have carried out pragmatic cooperation in the fields of culture, investment, economy, trade, infrastructure and agriculture-strengthening the friendship between Chinese and Sierra Leonean people.
The establishment of diplomatic relations was the brainchild of then Sierra Leonean president Siaka Probyn Stevens and Chairman Mao Zedong. At the heart of bitter Cold War rivalries and animosities, these two men made the courageous and foresighted decision to establish diplomatic relations at ambassadorial level.
At the dawn of these relations, certain stakeholders could hardly understand the binding force between two governments and peoples that were mutually so contrasting, especially in terms of their geography and culture. Nevertheless, with the highly diversified and vibrant friendship, it is clear that what binds these apparently incompatible governments is their shared vision and aspiration and their zeal to enhance the welfare of their respective peoples through mutual assistance. Our rapprochement has enhanced our mutual understanding, thereby enabling our two countries to grasp and brave some of the complex realities of contemporary international politics.
This largely explains Sierra Leone's legendary and constant support for China in global forums such as the United Nations. In fact, Sierra Leone was one of the 21 African countries that co-sponsored and voted in favor of UN General Assembly Resolution 2758, which recognized the People's Republic of China as "the sole legitimate representative of China at the United Nations".
Sierra Leone has remained a faithful and strong proponent of the one-China principle.
In other multilateral forums such as the UN Human Rights Council, Sierra Leone has consistently condemned and opposed various moves to brand some of China's domestic policies as "human rights violations". Such resolute stands emanate from Sierra Leone's deep understanding of China's domestic realities and its existential challenges.
Our robust partnership extends well beyond the confines of international forums. Just a glance at Sierra Leone's landscape will reveal some of the magnificent fruits of this diplomatic relationship. Prominent among these are Siaka Stevens Stadium in Freetown, the multipurpose stadium at Bo, the Dodo hydroelectric program at Kenema and the China-Sierra Leone Friendship Road.
Currently, an impressive number of Sierra Leoneans are studying in China on Chinese government scholarships. In fact, well over 1,000 Sierra Leonean students have studied in China.
More than 20 groups of Chinese medical workers have served in Sierra Leone. One of the peaks of these humanitarian and medical gestures was reached during the West African Ebola epidemic of 2014, which seriously affected Sierra Leone. President Xi Jinping was the first head of state to explicitly respond to the distress call from Sierra Leone.
As you might now realize, it has been a long journey by two mutually supportive friends whose journey started through very modest and low-profile undertakings, such as the dispatching of medics and equipment to rural settings in Sierra Leone.
In 2016, our two governments signed the Comprehensive Strategic Cooperative Partnership. The ideas in that document have been crystalized by Sierra Leone's President Julius Maada Bio in a strategic infrastructural blueprint dubbed "The Presidential Infrastructure Initiative".
The realization of this flagship initiative will permit Sierra Leone to rebuild its war-torn and derelict infrastructure, thereby transforming its economy into middle-income status and self-sufficiency by 2035.
Through our enhanced cooperation under the initiative, China will certainly export its poverty alleviation miracle to Sierra Leone.
While congratulating our two countries for the 50th anniversary of our relations, I would like to take this opportunity to congratulate the Chinese government and people as they celebrate the 100-year anniversary of the founding of the Communist Party of China, whose achievements include success in the fight against COVID-19. By eradicating absolute poverty on such a magnitude and in such a time frame, the CPC has set a record that will certainly remain unparalleled for several millennia in the annals of the history of development.
I am looking forward to the dawn of several generations of glorious collaboration, prosperity and friendship between our governments and peoples.
Long live Sierra Leone-China relations!
The author is Sierra Leone's ambassador to China. The views do not necessarily reflect those of China Daily.