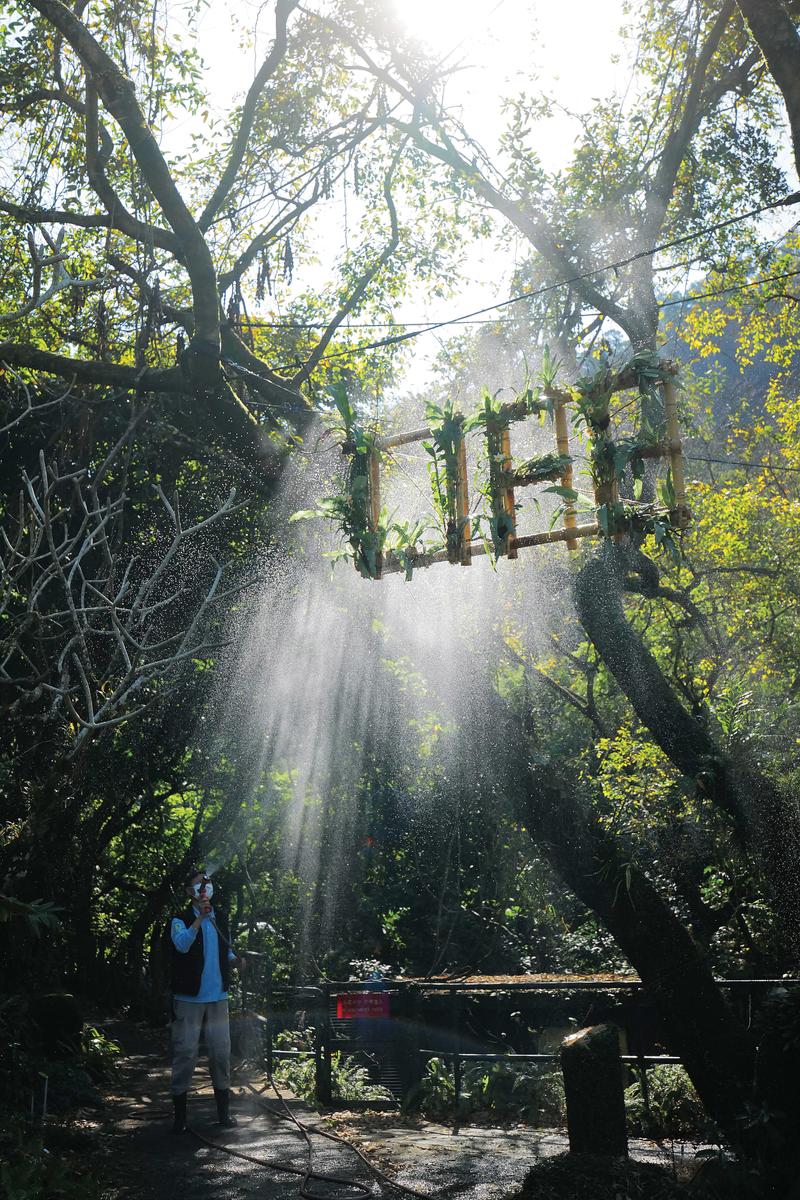 Zheng Bo's installations Life is hard. Why do we make it so easy? is a critical commentary on the human tendency to take an anthropocentric view of the world. [PHOTO PROVIDED TO CHINA DAILY]
Several Hong Kong artists have turned to exploring the relationship between man and nature in a world that is drastically changed in the wake of COVID-19. Joyce Yip reports.
Known for creating festive installations for the likes of K11 and Clockenflap, Soto Kwok has long been urging his clients to replace plastics and fiberglass with the ultimate biodegradable material: plants.
Last year, he took over Hong Kong Times Square's year-end setup, installing a cascading botanical chandelier and a towering Christmas tree made of wooden boxes. In the summer of 2021, he and his team from Botanic Union, a 30,000-square feet nursery Kwok co-founded a year ago, are back at the Causeway Bay shopping mall with a garden-inspired playground built using recyclable materials and, of course, plants.
"Traditional exhibitions designed with PVC and synthetic materials aren't sustainable. At the end of the day, they don't mean anything to society, nor will our next generation get anything from them," says Kwok. "So why don't we create the same visual impacts but with sustainable and upcycled materials, brimming with stories and history?"
Zheng Bo's installations You are the 0.01% is a critical commentary on the human tendency to take an anthropocentric view of the world. [PHOTO PROVIDED TO CHINA DAILY]
There were more instances of public art celebrating nature in the recent past. In spring, a fluttering rainbow sprung from a section of the promenade in Wan Chai, among other installations meant to promote nature therapy. In Kadoorie Farm and Botanic Garden, orchids were shaped into letters forming English words, highlighting the ecological challenges faced by plant life. And The Mills devoted three months to examining how the ephemeral kapok flower could prove useful while adding color to our daily lives.
Arguably the byproducts of a pandemic, these nature-inspired art shows could have been fueled by wanderlust, an obsession with mindfulness or even a desperate need to re-examine man's relationship with the universe. The other simpler reason could be that sharing a space with plants makes us feel good.
German psychologist Erich Fromm introduced the term "biophilia" in 1984. The theory is backed up by more recent studies that found putting plants in the workspace can help reduce anxiety, depression, anger and fatigue among employees. Proximity to plants also boosts creativity, concentration and overall well-being, and has proved to be a much-needed antidote to the stress caused by COVID-19.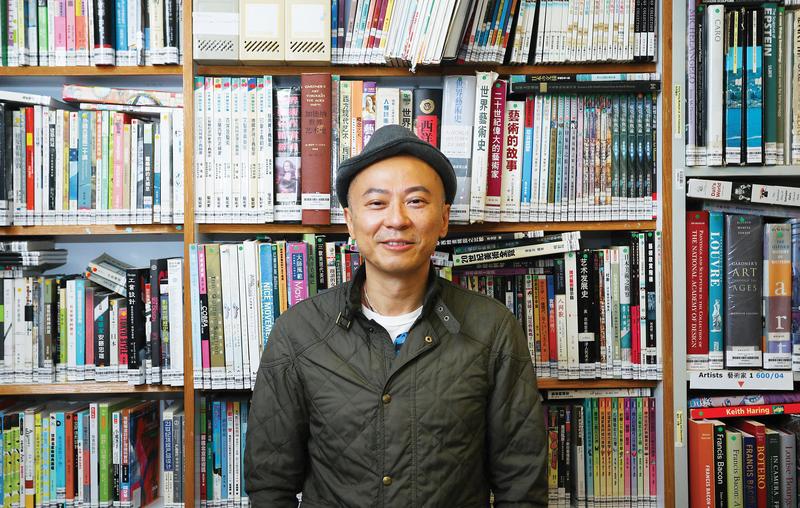 Nature Therapy installation series creator Hung Keung says the idea is to "capture the feelings of well-being, positivity, relaxation and bliss" experienced during a stroll in the park. [PHOTO PROVIDED TO CHINA DAILY]
Challenging hierarchies
The idea behind the Nice to Meet You Kapok exhibition at The Mills was to make visitors see that there was more to a kapok tree than the airborne fibers from its overripe fruits. Its flowers are a potential source of natural fabric dye, pillow stuffing, and a key ingredient of five-flower tea (wuhuacha). Also featured in the exhibition, held from March to May, was an illustrated map showing the kapok trees in and around Tsuen Wan, where The Mills is located. Other attractions included a window mural by Lam King-ting and wooden pillars inscribed with lines from local writer Chan Wai's short story on the kapok flower.
"For us, art was just a means of expressing nature," says Vicki Lui, manager of The Mills' Cultural and Community Engagement Department. "Evident from COVID-19, Mother Nature is ill and our lifestyles are to blame. Through these programs, we hope to connect with the community with knowledge the public can replicate at home or turn into a cool story to share with friends. This is the only way we can promote sustainability."
Zheng Bo's exhibition Life is hard. Why do we make it so easy? held in Kadoorie Farm and Botanic Garden earlier this year, was an attempt to look at the world from a non-anthropocentric way. The artist used malleable bamboo reeds to create the framework for an installation featuring the 10 words of the show title. Seeds of fern and 12 species of local orchids were sewn onto the frames. By the time the exhibition commenced, the words had come alive with blooming flowers.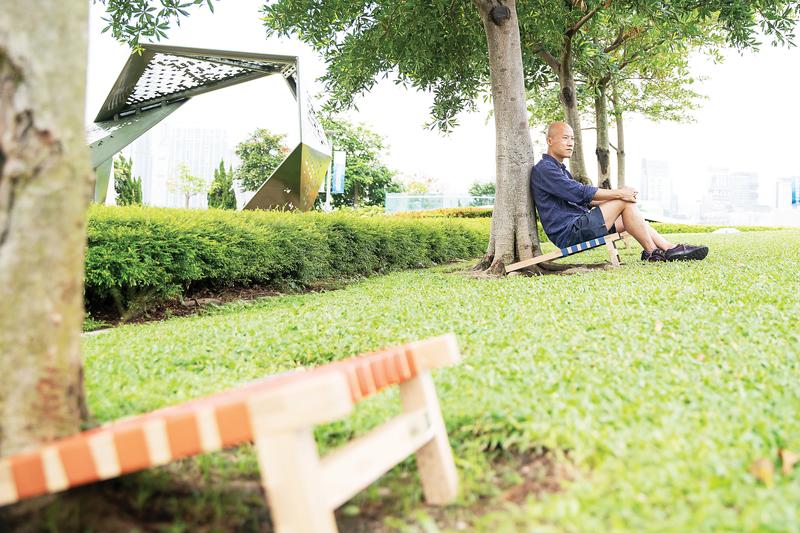 Pieces in the Nature Therapy installation series are meant to inspire people to reconnect with nature, often by putting a spin on the regular sort of park visit experiences. [PHOTO PROVIDED TO CHINA DAILY]
By creating a message out of living orchids and ferns that are epiphytical by nature — i.e., plants that grow on the surface of other plants without harming the host — Zheng wanted to draw attention to the exploitative relationships that often exist between man and nature.
"When I started to work with plants, I realized the inequality between us and other forms of life," says Zheng. "Most humans try to push other forms of life into the margins. We help certain species propagate but ignore the majority of other species, and then, purposely or inadvertently, destroy their habitat and kill them. We have made other lives — in particular that of plants and animals — so much more difficult."
His aim is not only to acknowledge nature's contribution to his art, but also to help nature "realize its full potential, its energy and vitality."
In his installation titled You are the 0.01% — on show at Hong Kong's Oil Street Art Space in 2019, and since moved to Berlin — different varieties of grass were used to make the words stand out in a green patch. The message referred to humans accounting for only 0.01 percent of the Earth's biomass. The patch was left to grow organically after the exhibition, allowing weeds to mess with the artwork, as a reminder of nature's ability to disrupt human endeavor.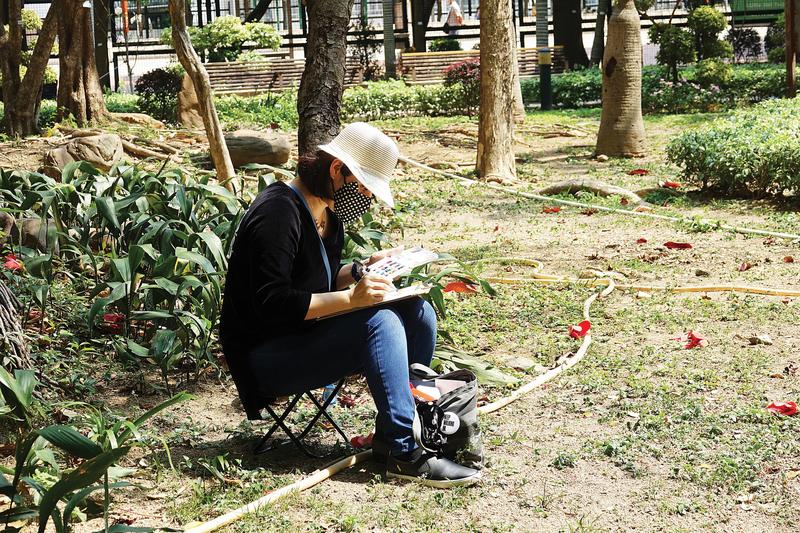 As part of the Nice to Meet You Kapok show, The Mills celebrated the kapok flower and the myriad ways it might add color to people's daily lives. [PHOTO PROVIDED TO CHINA DAILY]
Renewing the bond
While Botanical Union's Kwok, The Mills' Lui and Zheng have tried to make art out of nature, the new media artist Hung Keung — who conceptualized the five-piece Nature Therapy installation series on the Wan Chai Pierside Harbour Chill — has used art to highlight the sensory delights that nature yields.
Commissioned by Design District Hong Kong and created in partnership with Milk Design Limited, Nature Therapy magnifies the sensory experiences one might expect to find while taking a stroll in the park. Passersby are invited to sit down on chairs that use trunks of living trees for back support; relax their breathing in sync with an undulating "diaphragm" and meditate while sitting atop a sensor-fitted rock until a rainbow arch made of countless colorful, transparent plastic pieces come to life.
"We want to capture the feelings of well-being, positivity, relaxation and bliss that a stroll at the park brings. Our work offers that without blocking the views of Victoria Harbour," says Hung.
"With social distancing, art has leaped out of traditional spaces, and this has given it so much more meaning. For example, if the 'diaphragm' were placed in a gallery, people wouldn't pay it too much attention. But since it's displayed against blue skies and the Victoria Harbour, passersby actually slow down and match their breathing to the piece."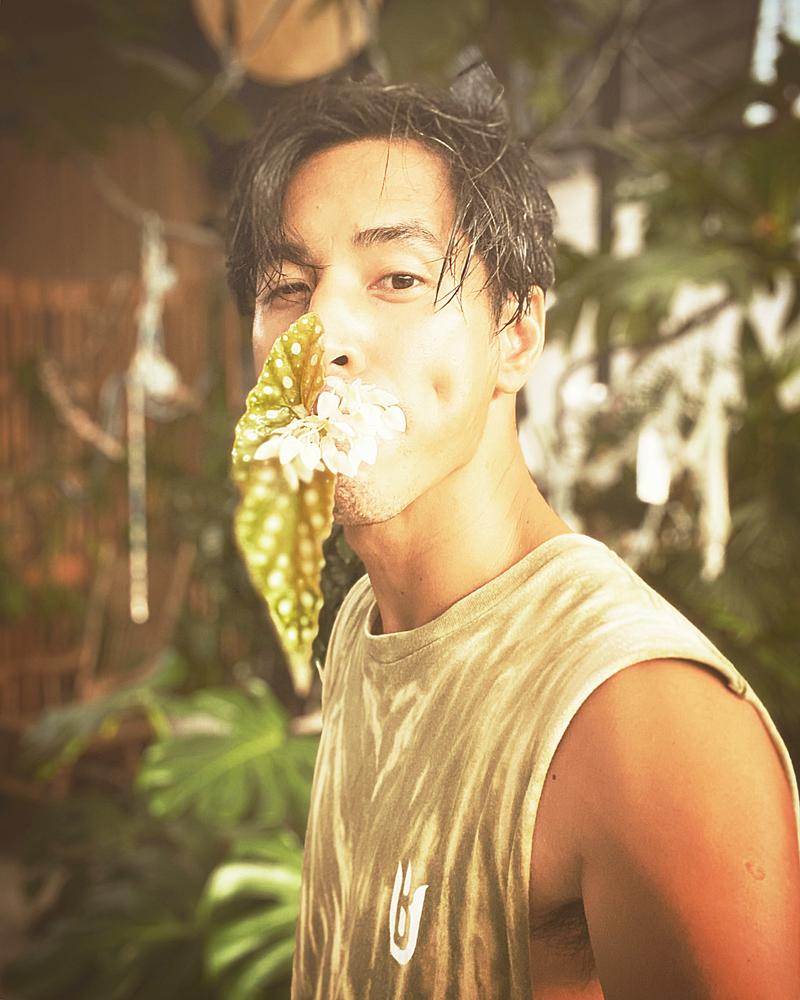 Soto Kwok of Botanic Union has turned Times Square into a garden-inspired playground, made out of recyclable material, including plants. [PHOTO PROVIDED TO CHINA DAILY]
Hung doesn't see technology as nature's nemesis. Instead, he feels it allows for novel interpretations and invites better synergies between a piece of art, its surrounds and the onlooker.
Regardless of the medium, artists will probably continue to seek inspiration and material in the world of nature.
"People are coming to realize that life isn't just about money," says Kwok. "We would like to go back to basics and appreciate the small things in life. And proximity to plants grants us the power to do that."
If you go
It's Play Time
By Times Square and Botanic Union
Dates: Until Aug 29
Venue: Times Square, 1 Matheson Street, Causeway Bay