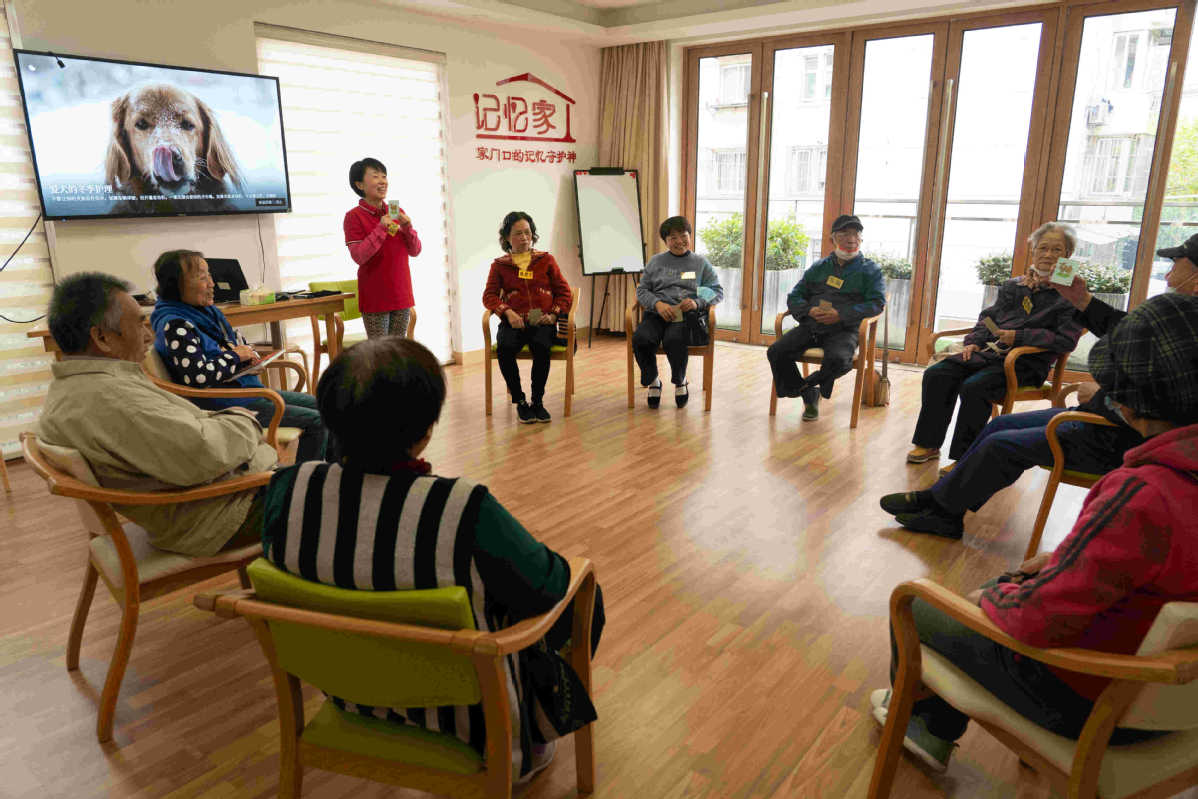 A member of staff at a support center in Daning road, Shanghai, uses cards to help improve seniors' memories and overall cognitive abilities. GAO ERQIANG/CHINA DAILY
Seniors experiencing mental deterioration are being helped by a new treatment approach. He Qi reports from Shanghai.
A year ago, Chen, a 70-year-old in Shanghai's Daning road neighborhood, was diagnosed with vascular dementia. The condition affected Chen's ability to speak, leaving her depressed and reluctant to go out.
The situation made her husband feel helpless, so when Memory Home, a cognitive impairment community support center for seniors, opened in their district about a year ago, he took Chen to visit.
Chen, who like many seniors interviewed for this story preferred not to give her full name, quickly discovered that the center was very different from regular community groups.
"The young helpers are very patient. I feel very relaxed there," she said.
After analysis of her ailment, social workers used a psychological approach to guide Chen's behavior.
They encouraged her to leave home more often to ease the mental burden of living with her condition and stop her feeling lonely and helpless. She quickly became a frequent visitor at the center.
During group activities, Chen began to speak more and volunteered to help with activities such as cleaning, making simple meals and delivering parcels in the center.
Yuan, her husband, said she has become a different person and her emotional state has improved significantly in the past six months, along with her language ability.
Memory House is one of the first batch of pilot units for seniors with cognitive impairment initiated by the Shanghai Civil Affairs Bureau and promoted by the city government.
The center, which is operated by Shanghai Jinmei Elderly Care, a social aid organization, opened in October last year.
One of the first things visitors notice is that the space has been optimized for those with cognitive impairment-especially the interior lighting, which has been designed to guide the seniors and help them walk around confidently.
In addition, a signage system has been installed to prevent the confusion and anxiety that can arise as a result of the patients' weakened perception of space and time.
Taking the seniors and their families as the core element, the center provides one-stop memory health services including science-based prevention, evaluation and early intervention.
It provides training for caregivers, along with psychological support and consultations for families, and has cooperated with local communities, businesses, elderly services institutions, hospitals and supermarkets to build a "cognitive friendly" community.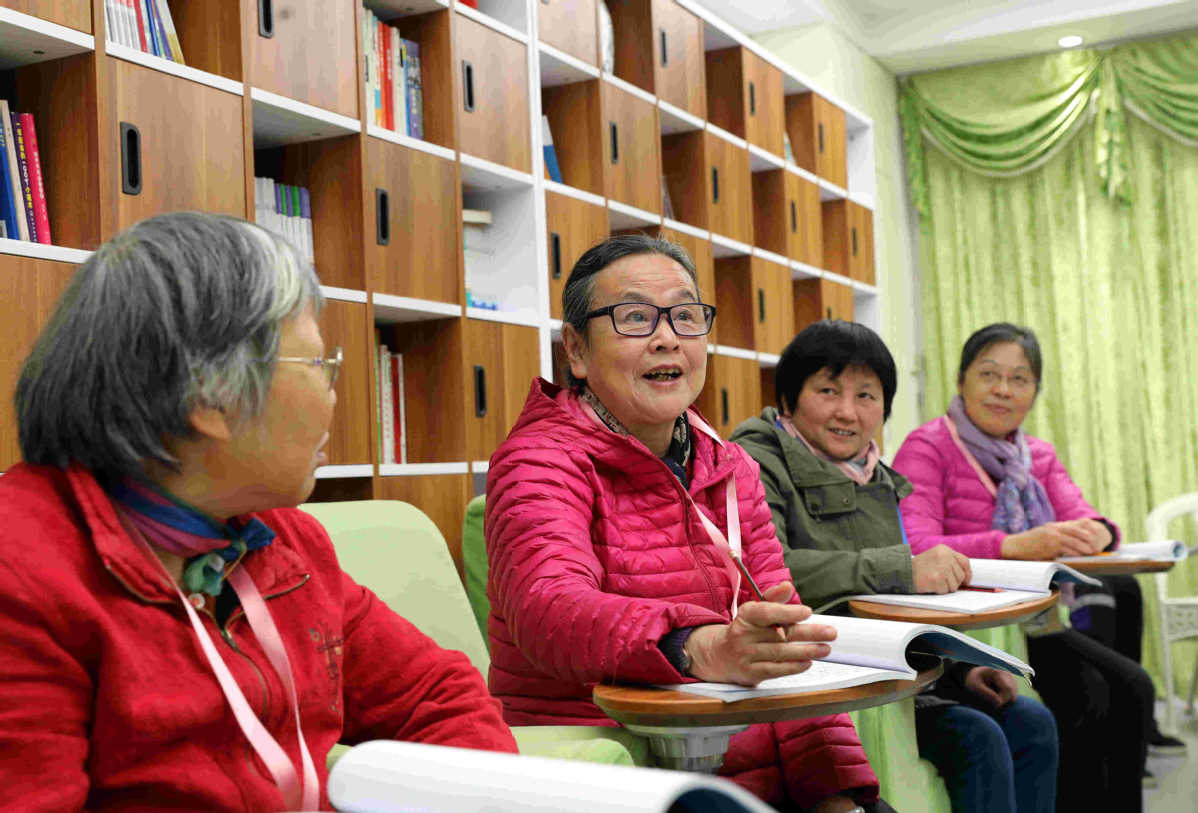 Seniors in a Shanghai neighborhood tell stories to boost their mental functions. LIUYING/XINHUA
Background
The term "cognitive impairment" covers a range of degenerative brain conditions, including Alzheimer's disease, which is the most common and a major challenge for the rapidly aging global society.
Most types of cognitive impairment are irreversible. Early symptoms include failing memory and declining attention span. Later, skills such as language and cognition gradually decline until the patient is unable to care for themself.
The process is lengthy, so it affects the patients and their families.
Last year, more than 35 percent of Shanghai's 24.3 million permanent residents was age 60 or older-designated as "elderly"-meaning the city's population is officially aging.
Statistics from the civil affairs bureau show that Shanghai has more than 300,000 seniors with cognitive impairment, prompting the need for related public services.
World Alzheimer's Day is marked on Sept 21 annually. This year, the date was also the first anniversary of the launch of Shanghai's Elderly Cognitive Impairment Friendly Community Construction Pilot.
According to the civil affairs bureau, 27 of the 28 neighborhoods in the project's first round-one is still being established-have achieved good results, and the total area of support centers in those neighborhoods exceeds 8,347 square meters. Meanwhile, 13 of the neighborhoods are equipped with independent community support centers for patients.
The bureau said a second batch of pilot projects will be launched soon.
They will strive to make most of the city's streets into communities friendly to cognitively impaired seniors by the end of the 14th Five-Year Plan (2021-25). Eventually, the same model and standards will be established in the construction of similar communities citywide.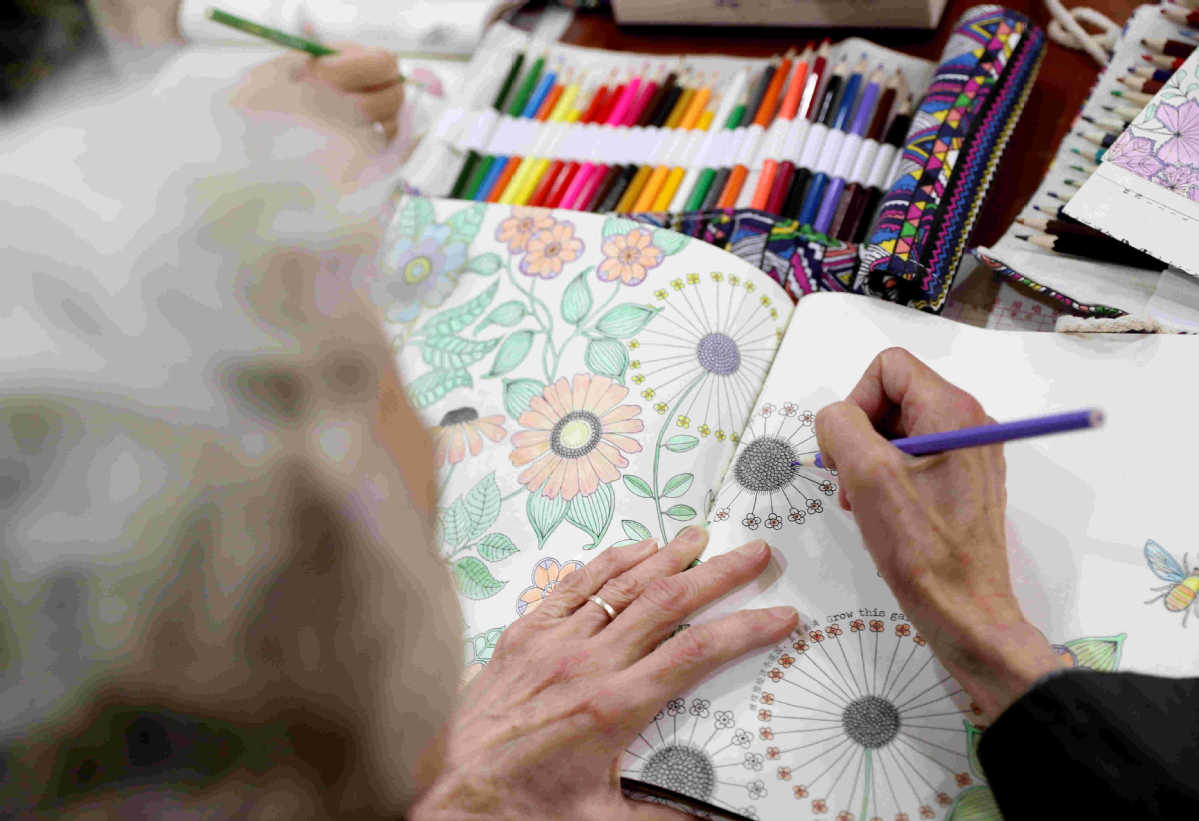 A woman takes part in art-based rehabilitation therapy at a center in the city. LIUYING/XINHUA
'Sense of shame'
For a long time, families confined cognitively impaired seniors to the home and delayed sending them to care facilities until they had lost control of their emotions and behavior. The refusal stemmed from a sense of shame prompted by the illness.
Now, the construction of cognitive friendly communities is changing things.
"We used to call it 'senile dementia', and then we came up with 'cognitive disease'. Now we have a more professional term: 'cognitive impairment'," said Chen Yuebin, director of the bureau's aged care center.
He noted that few people use the word "disease" now, which strongly indicates that the sense of shame is disappearing. The most noticeable effect of that has been the emergence of a large number of "hidden families", which have at least one cognitively impaired member.
The bureau's latest data show that 58,084 people in 27 of the pilot neighborhoods have undergone cognitive impairment risk assessments. The average of 2,151 people per neighborhood far exceeds the bureau's target.
Changning district's Jiangsu Road neighborhood has completed 10,700 assessments, accounting for more than 80 percent of its seniors.
"Before, people often ignored early signs of elderly cognitive impairment because they didn't understand or pay attention to the illness. They only consulted doctors when the patient lost their way, exhibited abnormal behavior, injured, or even self-injured, themself. That meant they missed the best time for intervention," said Jiang Rui, deputy director of the city's civil affairs bureau.
"Risk assessment of cognitive impairment, which is an important focus of the pilot project, is crucial. Early intervention means professional help can slow the progress of the illness and improve the patient's quality of life."
Delayed development
Risk assessment and detection are the first steps in the pilot's construction, but patients are also offered cognitive training and pharmaceutical-free intervention to delay development of the condition.
So far, 27 neighborhoods have introduced private social organizations and explored pharmaceutical-free intervention, including group activities, body and brain activation movement, and art therapy.
More options can be chosen in accordance with each patient's cognitive status and preferences.
In a room at a service center in Daning Road, the seniors can try a special instrument used as part of the Bunne Method, a form of musical therapy.
"It is a combined instrument (with several fixed to a central frame) including guitars and drums, which can be played randomly by seniors," said Fei Chao, director of Shanghai Jinmei Elderly Care.
Fei added that of all nonpharmaceutical interventions, seniors are most sensitive to and affected by musical therapy, so caregivers hope to use it to help patients' retain their remaining brain functions and improve their quality of life.
Support services
Advanced cognitive impairment sees many seniors getting lost and requiring all-day care, while some may exhibit behavioral problems, including irrational anger and a lack of interest in basic hygiene.
The problem causes difficulties for their families and hampers the caring process. That means family support is crucial in building a community that is "friendly" to the cognitively impaired.
"While building the pilot, many professional social organizations set up family support centers in the community to provide caregiver training for family members and coffee events where they can chat about problems to release the pressure they feel. That is helping us to establish a comprehensive, family-based system," Jiang said.
Ge, 75, has been taking care of her cognitively impaired husband, Jiang, since long before Shanghai Jinmei Elderly Care set up its family support center. Jiang, who was diagnosed with moderate cognitive impairment two years ago, requires help with many daily activities.
However, he has a high sense of self-worth and his emotional state fluctuates. He used to become angry and uncooperative whenever Ge complained or was fatigued, which led to her developing insomnia and depression.
At the local memory home, Ge takes part in family support events while Jiang attends intervention sessions. Ge now realizes that she was too meticulous and asked too much of Jiang, so she has adapted her care methods and learned to tolerate his behavior and praise him.
She often chats with others in the same situation, which eases her mental burden and has gradually helped improve her husband's moods.
Jiang Rui, from the bureau, said, "Family members can get multidimensional support, from caring skills to psychological comfort, through our on-and offline services, and seniors with cognitive impairment can also receive better care."
Community involvement
The bureau said that in addition to providing direct services for seniors and families, it is essential that construction of the "friendly network and culture" is included in policy guidance and evaluations during the pilot process.
As part of the pilot, social welfare organizations have begun promoting awareness of popular science and mental health education related to cognitive impairment within the community. They have also explored the establishment of community networks tailored to local conditions.
Visits to community groups, businesses and schools have allowed them to explain mental degeneration and develop a large number of support groups.
For example, elementary and secondary schools in the Hongqiao, Yangjing, Tangqiao and Xinhong neighborhoods host classes about cognitive impairment.
Jinmei Elderly Care staff members have designed and developed interactive science popularization courses and illustrated handbooks to encourage a positive perception of cognitively impaired people among children, and encourage them to care for seniors at home.
Inevitably, there have been problems, according to the bureau.
"For example, there is a shortfall in the capabilities of some organizations to provide services, while others are unable to meet the requirements of higher professional risk assessment, early intervention and family support within the pilot process," Jiang Rui said.
She said the next step will be to provide more training for pilot neighborhoods and social organizations, while gradually improving the risk-assessment system, obtaining accurate data about cognitive impairment in Shanghai and bolstering the project evaluation and supervision system.