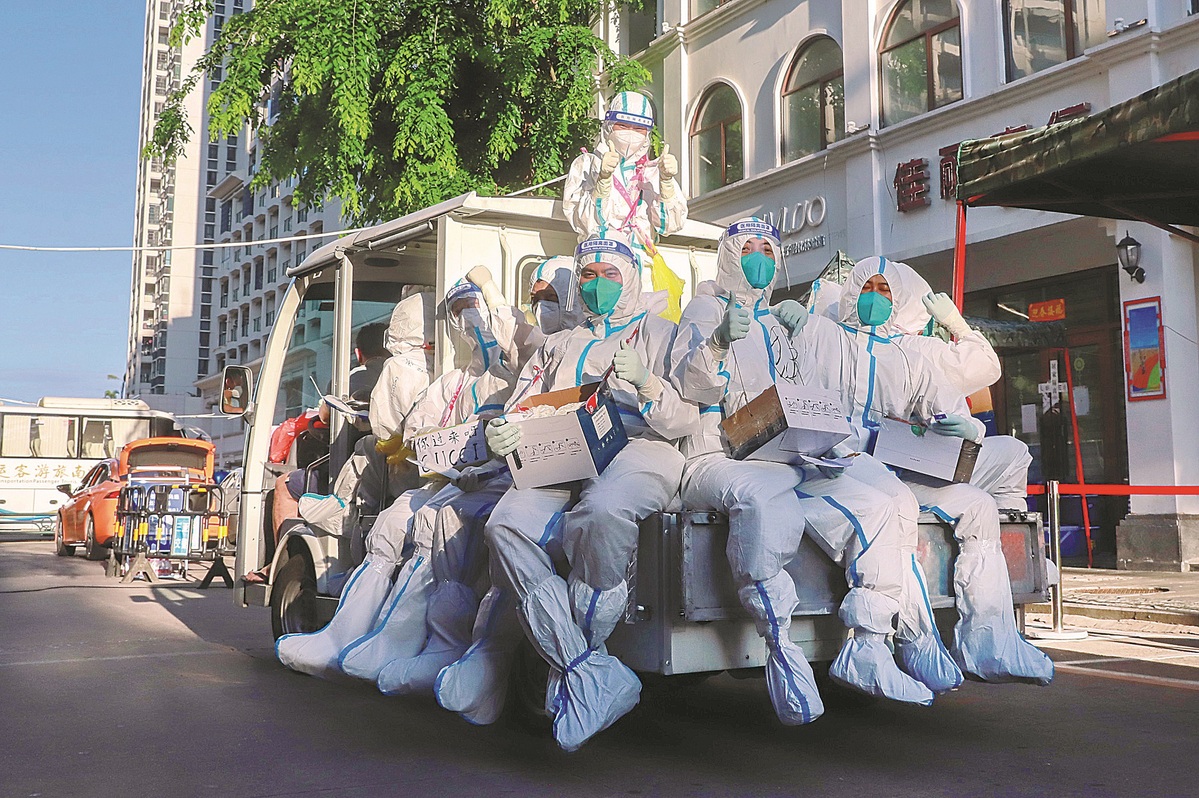 Medical workers sit on the back of a vehicle in the early morning on their way to collect COVID-19 samples from residents at a community in Sanya, Hainan province, on Thursday. After a hard-fought battle, the city's outbreak is finally on the wane. [Photo by WANG CHENGLONG/FOR CHINA DAILY]
Residents required to stay at home in Chengdu; school openings delayed
Multiple cities across the country are experiencing new COVID-19 outbreaks, forcing local authorities to roll out measures to curb transmissions, such as confining residents at home and delaying students' return to school.
Chengdu, capital city in Sichuan province, required residents to stay home and unnecessary businesses to suspend from 6 pm on Thursday, according to local authorities.
Households can send one family member to go out once a day to buy daily supplies with a negative nucleic acid result from within 24 hours, said Zhang Jinquan, head of the Chengdu city bureau of commerce, adding that the supermarkets and farm produce markets will be open on Friday to guarantee the supply of fresh vegetables and meat.
Since the report of the first case of infection linked to people outside the city on Aug 12, Chengdu has reported more than 900 local infections, involving more than 20 infection chains. The pressure on epidemic prevention and control is very high, said Fan Shuangfeng, from the Chengdu Center for Disease Control and Prevention.
Starting on Thursday, Chengdu will carry out mass testing over four consecutive days.
Apart from Sichuan, the Chinese mainland reported another 175 local confirmed cases on Wednesday, of which 53 were in the Tibet autonomous region, the National Health Commission said on Thursday. The rest of the cases were scattered across 15 provincial-level regions.
Altogether, 1,596 local asymptomatic carriers were newly identified on Wednesday, including 621 in Tibet, 212 in Qinghai province and 130 in Heilongjiang province, it said.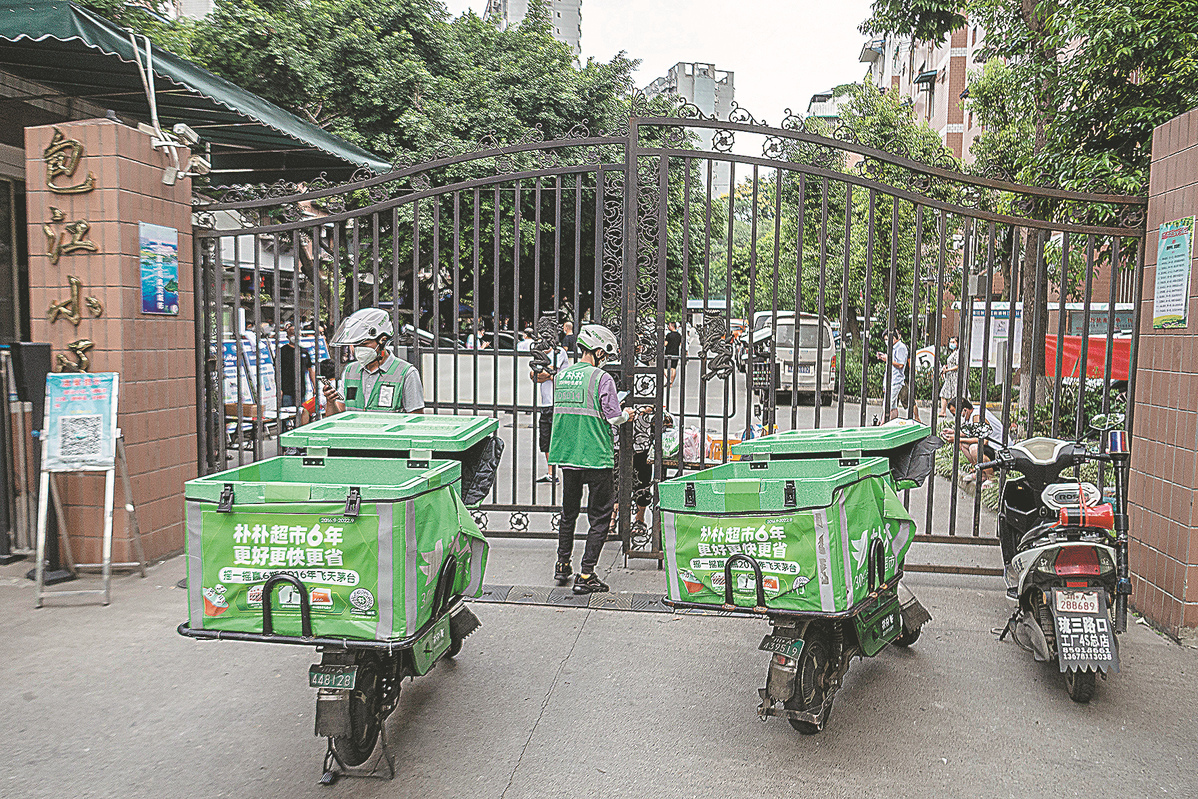 Couriers leave orders at the gate of a community for residents to fetch in Chengdu, Sichuan province, on Thursday, after the community was closed off due to a COVID-19 outbreak. [Photo/CHINA NEWS SERVICE]
Affected by the outbreaks, many cities have postponed the start of the new semester, which usually starts on Sept 1, including Harbin, Tianjin and Dalian. Most of the schools will temporarily provide online classes for students before the schools open.
"After the long summer vacation, I'm really missing my teachers and classmates, and now we still can't get together," said Liu Yingjin, a 9-year-old pupil from Qunli Experimental Primary School in Harbin, Heilongjiang province.
Yingjin participated in a flag-raising ceremony online on Thursday.
A dance training center in Futian district of Shenzhen, Guangdong province, is under legal investigation for its possible involvement in a cluster of COVID-19 infections, local authorities said.
The Huaxing Dance Art Center has reported 28 positive cases as of 6 pm on Wednesday, according to the district's headquarters for epidemic prevention and control.
Shenzhen reported 62 positive cases on Wednesday, with 26 of them connected with the dance center, the city's health authorities said.
Tibet's seven prefecture-level cities have basically realized zero COVID-19 status at the community level, authorities said at a news conference on Thursday afternoon.
"The region has been making solid progress in its battle against the latest COVID-19 outbreak," Chodar, deputy secretary-general of the regional government, said at the conference.
Zhou Huiying in Harbin and Palden Nyima in Lhasa contributed to this story.